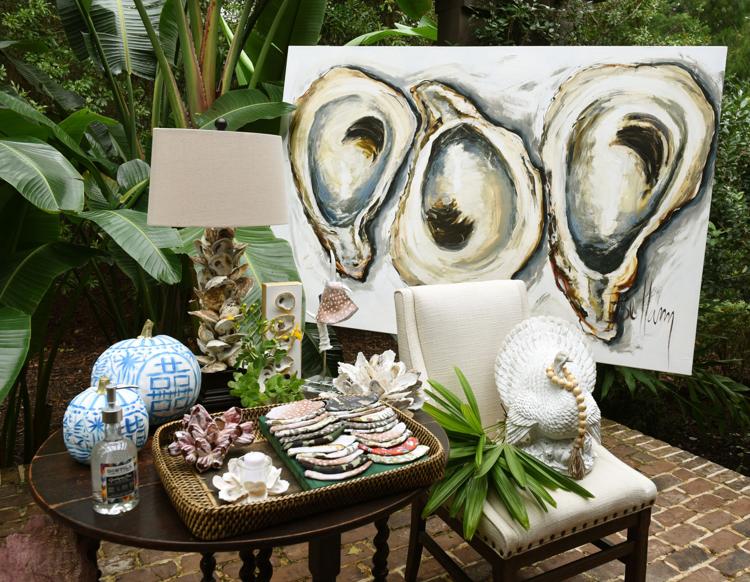 When the inaugural Hunt Ball, held at Frederica Golf Club, made its debut in 2019, it was quite a success. The new annual fundraiser for Habitat for Humanity of Glynn County shunned sequined gowns and tuxedos, and instead requested guests attend in hunting attire. This salute to the Southern hunt, one of the region's most highly regarded traditions, celebrated fishing and hunting, but also highlighted wildlife artists and featured demonstrations with owls, hawks and hounds. Of course, it was a fundraiser, so there was a silent auction, great food, fabulous beverages and entertainment by the unforgettable Mason Waters and the Groove All-Stars.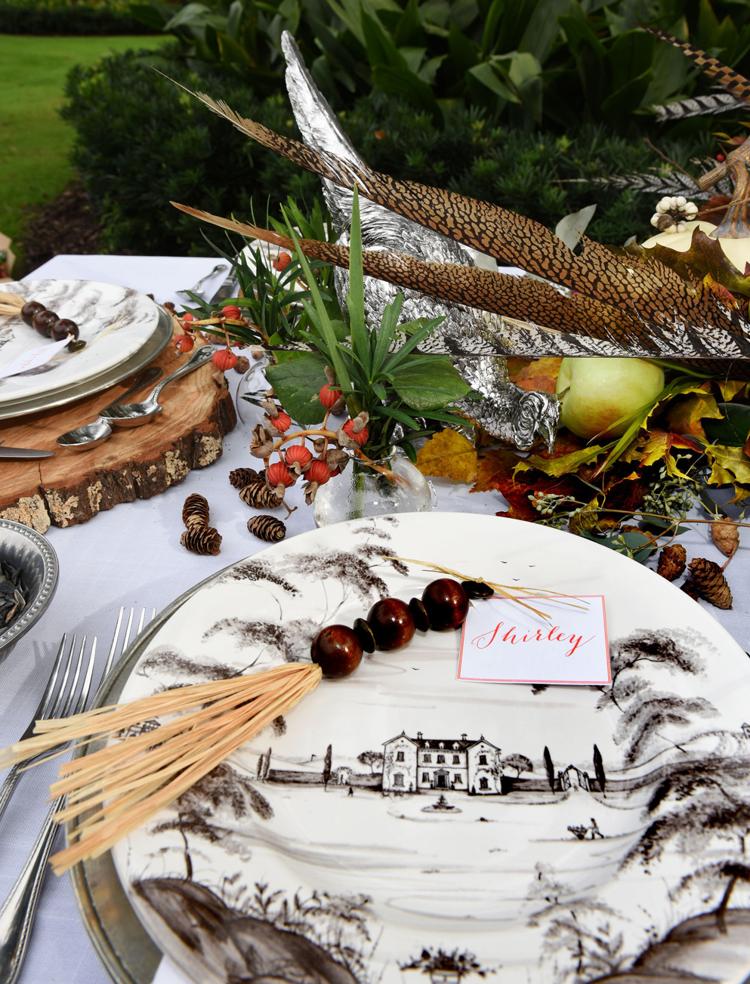 But, as with all things 2020, a new direction had to be found.
The three chairpersons of the Hunt Ball, Nancy Kaufman, Amanda Johnson and Elaine Griffin, had to, in football parlance, drop back and punt, to create a fundraiser that would not only benefit the organization but allow for social distancing. So, in September, appeal letters tucked into green burlap sacks that also contained two face masks handmade by Hunt Ball committee members, were mailed to benefactors. Kaufman said the fundraising campaign was a rousing success.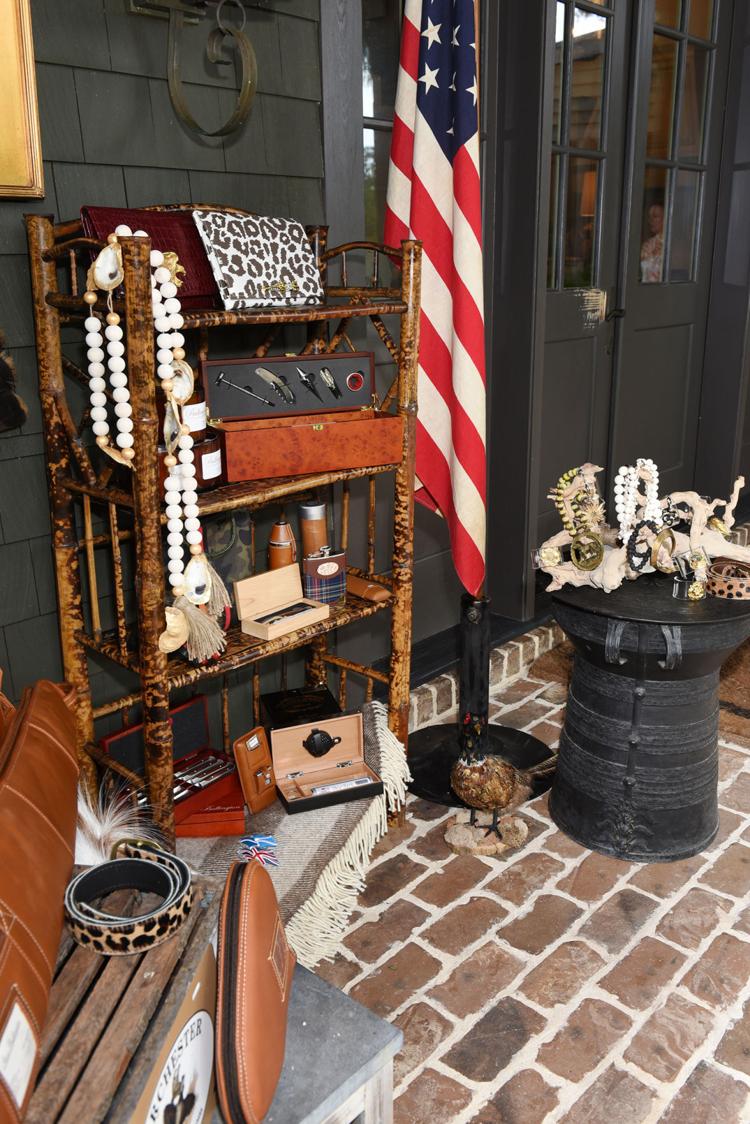 "We are beyond grateful to our donors for a surprisingly successful 2020."
–Nancy Kaufman
In lieu of a large event, the women have also come up with easy, stylish and fun ways to celebrate the hunt (or Thanksgiving) at home with a number of super-simple do-it-yourself projects and locally sourced products. Griffin, an internationally known interior designer and lifestyle expert who resides locally, said keeping things simple doesn't mean not having a rich, lush look to any event (no matter how small) one might be hosting. And don't limit decorating to specific rooms – it needs to begin at the curb and continue throughout the home.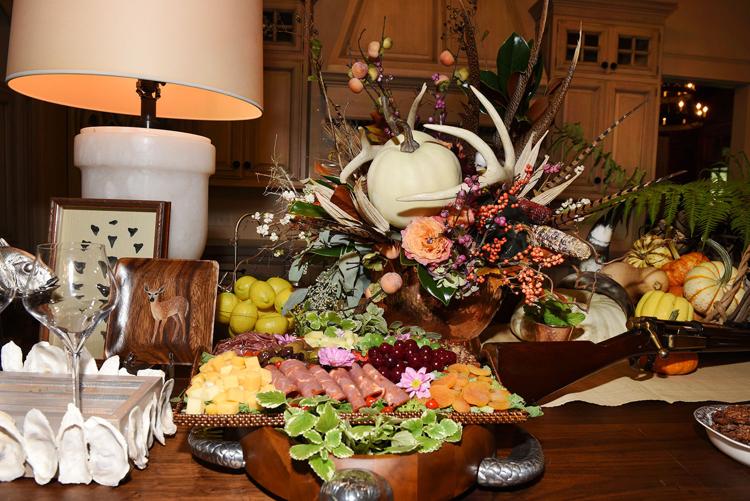 "Don't leave an inch untouched. We are encouraging people to bring the Hunt Ball home."
–Elaine Griffin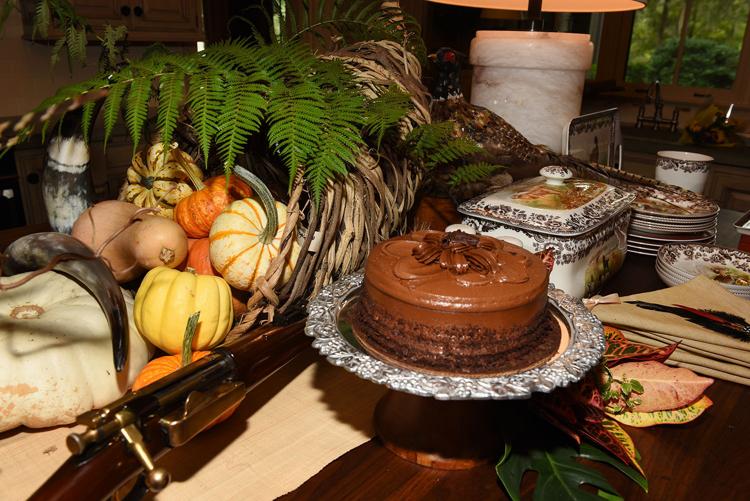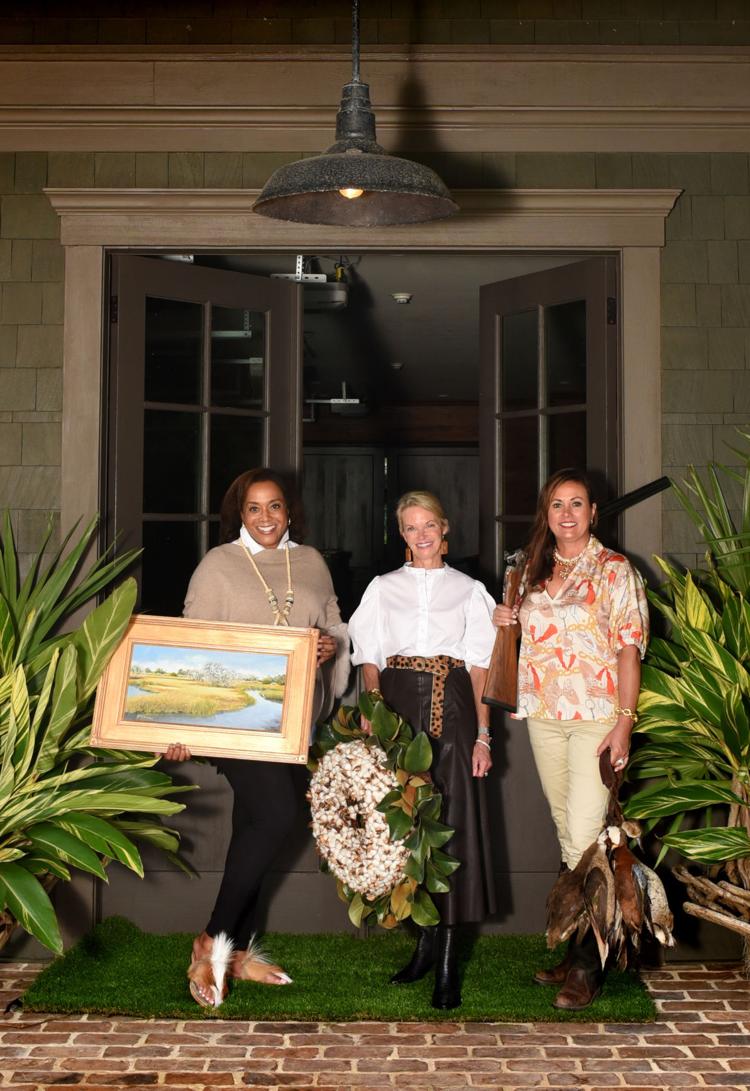 The Johnson home, where Amanda resides with her husband, Ashley, in Frederica, on St. Simons Island, has an ideal floor plan for hosting a holiday event, with its open great room-kitchen combination, expansive veranda, numerous patios and spacious back yard. The great-room is the center of activity.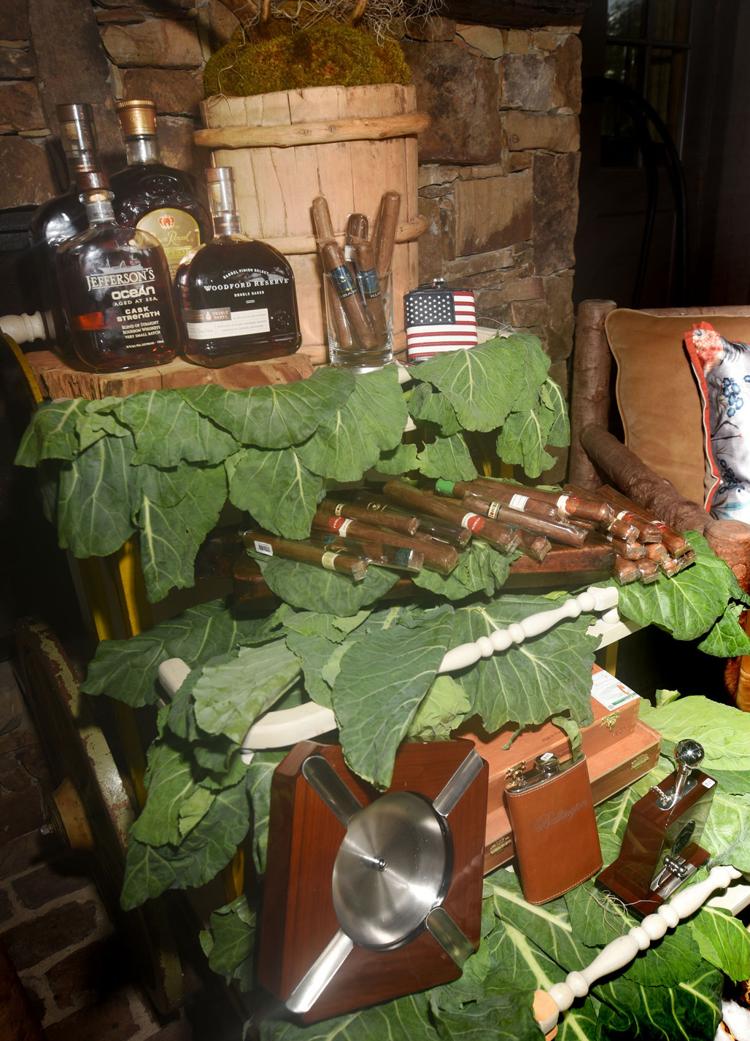 Before even entering the house, guests need to make one brief stop.
"Set up a sanitizing stations on porches, patios, in the foyer and each outdoor area," said Johnson.
At the sanitizing stations, masks should also be available for people who might feel more comfortable wearing them.
"The island is the hardest working piece in house," said Griffin, referring to the 16-foot wood and marble piece in the Johnson kitchen. "Everyone always gathers in the kitchen, so a multi-tasking island is a party must."
For this event, the island was embellished with a centerpiece and cornucopia from David Lowe, owner of Edward on St. Simons.
"It's not enough to have one centerpiece," she said. "That's lonely and sad."
Oyster sculptures and accessories from Donna Leggett and an array of food, including a charcuterie board from Golden Isles Olive Oil and sugar-fried pecans, also from Edward, round out the island. The secret to a striking centerpiece is its height, but only if it doesn't interfere with people seeing each other. That's why an island is the ideal spot for an over-the-top centerpiece; on dining tables they can be a bit more restrained.
Another fun amenity to have at any celebration is a swag table – a place where guests may take a gift of their choice from an assortment of themed items. At the Johnson home, an étagère was used to display the assortment of art, handbags, jewelry and men's accessories. Additional "rooms" to create include a cigar/bourbon room and a children's space.
Of course, specific attention to detail must be paid to the dining table or tables. For this look Juliska Country Estate Main House china was used, accompanied by Juliska silver. The Vietri chargers are from Italy, and Johnson's father made the oak tree trunk place mats. The little glass orb vases were sourced from Island ACE Garden Center. Edward on St. Simons furnished the centerpiece, with embellishments added by members of the committee to add layers and texture to the venue.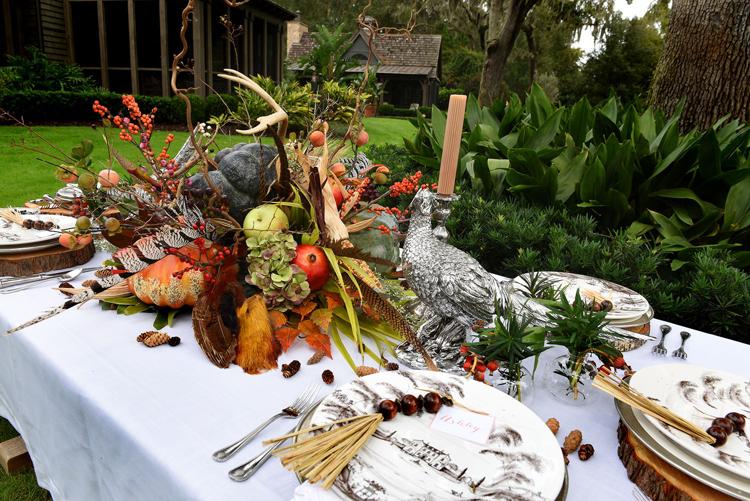 This is the year to dine outdoors, if the weather permits, Griffin said, because dining al fresco makes social distancing easier. When designing your dining space, whether indoors or outside, there are few rules to remember.
"Fall is nature's perfect time."
–Elaine Griffin
Incorporate easy-to-forage mixes of natural elements like pine cones, leaves, nuts, and even shark teeth. Elaine and Amanda agree that it's okay to mix real and faux, and all colors of metals, too. Add personalized details like place cards and take-home bud vases to make guests feel special. And opt for more – "the hunt ball is never a minimalist event," say the co-chairs.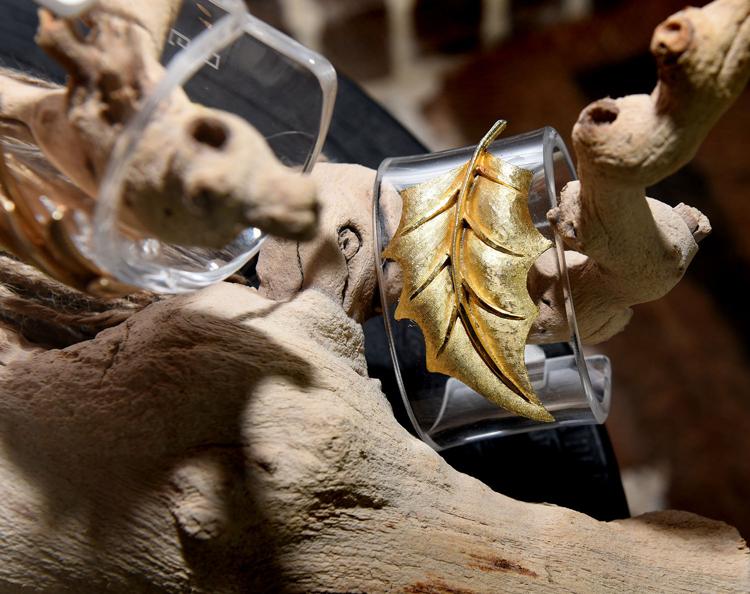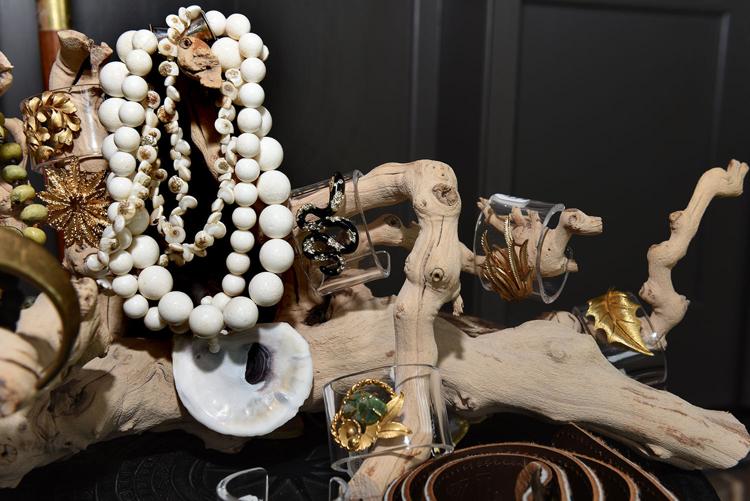 Griffin also favors D-I-Y projects, like the place cards displayed on the dining table. They're made from beads and raffia purchased from a craft store. Keep in mind that not everything has to be purchased, though. Many of the aforementioned natural items can be found outdoors, sometimes in one's own back yard. People should put their imaginations to work and design table scapes that not only fit the theme of the gathering, but reflect their own unique personalities as well.
"More is more. Be creative. Think lavish."
–Elaine Griffin