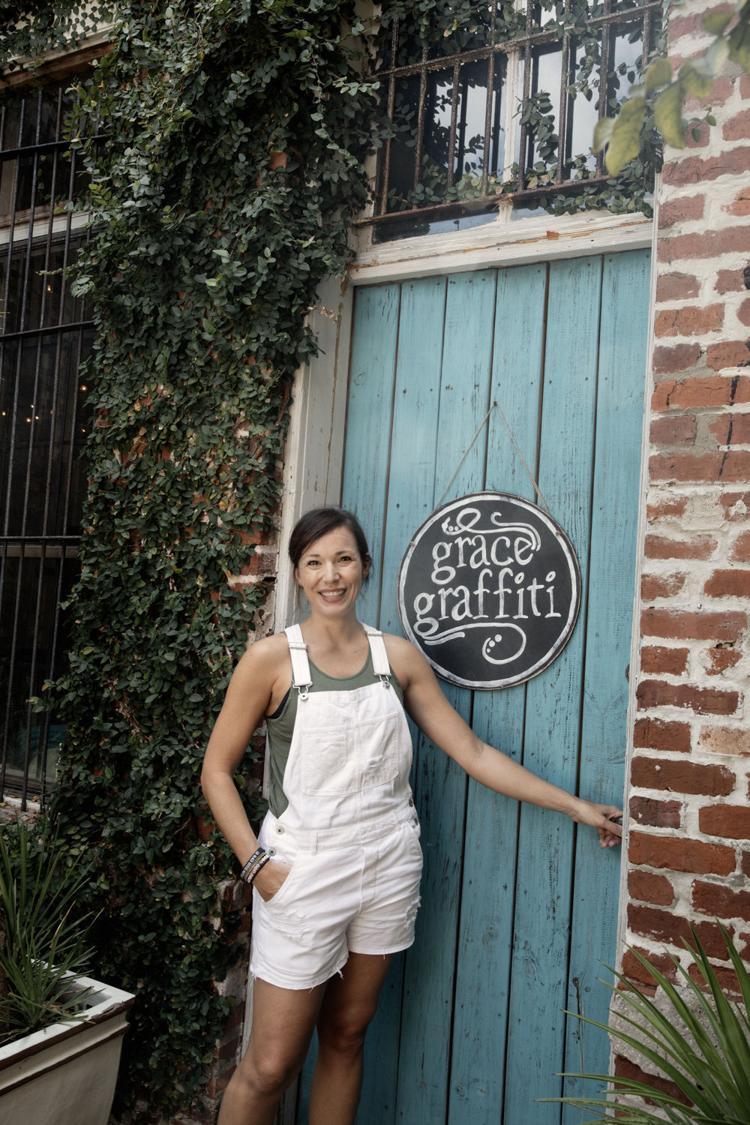 What's a maker, you might ask? In the simplest of terms, it's a person who creates something of substance that is ideally both aesthetically pleasing and eminently useful. The creations made by Whitney Herndon at Grace Graffiti, Heather Shadron at H. Shadron Pottery and Jennifer Zamudio at Dot & Army, all fill niches that items made on an assembly line simply can't.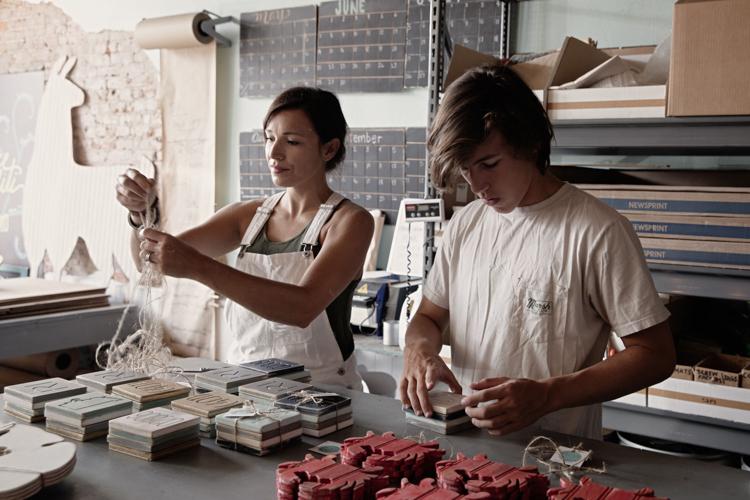 Whitney Herndon, whose company is in downtown Brunswick, began her company in her kitchen, selling custom orders to individual customers on Etsy.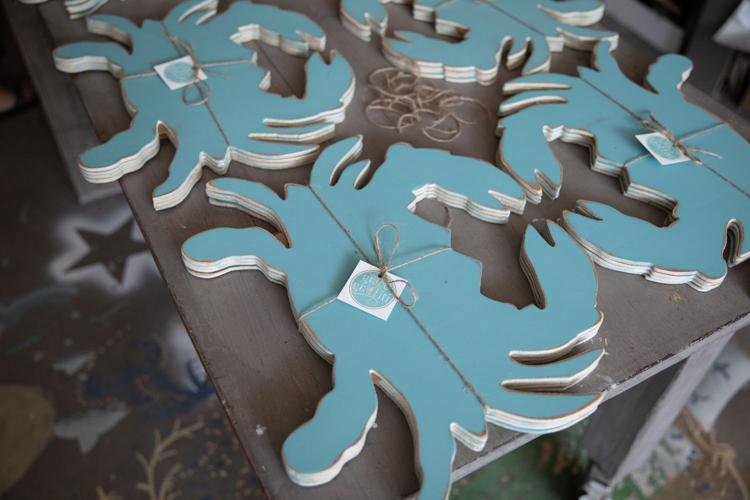 "Ten years later, we now operate out of our studio on Newcastle Street, and wholesale with over 150 retailers nationwide," she said. "While we still sell our items through our website, we primarily manufacture our goods for small boutiques and a few larger retailers."
She's always believed that the small things make all the difference.
"It's what people remember most after the reception, the party or the dinner," she explained. "The colors, the textures and the attitude tell a story … they tell your story."
What sets Grace Graffiti apart is its commitment to selling only handmade art. The entire process, from design to shipping, all happens in the company's downtown Brunswick studio. The company manufactures wood products, completely from scratch, beginning with the first pencil sketch to the last piece of tape on the shipping box. Whitney emphasized that everything is done by hand to make sure the piece of art you purchase is unlike anything else.
"Over the years, especially attending the Atlanta Mart and others multiple times a year, I am very aware of just how unique that is; it seems like such a simple concept, but it is not the norm," she said.
As is often the case, necessity was the mother of invention. The seeds for Grace Graffiti were sown when the Herndons were renovating their 1890 Colonial-style home in Old Town Brunswick, and decided to make a few items for the house. As it turns out, those first napkins and bowl covers became the basis of the company's product line.
Grace Graffiti doesn't have a retail store, but their operation is visible.
"We are always there working, and lots of people will stop by and watch our process through the window, but we are not open to the public," Whitney explained. "We do, however, open our doors twice a year for a holiday sale in the fall, and a sample sale in the summer. We love being a part of Historic Downtown Brunswick!"
She admits that the COVID-19 pandemic has changed the way things work, but as of now, production is in full swing.
"Our retailers are opening back up and needing to stock their stores for the holidays," Whitney said. "We have seen a huge increase in demand for American-made goods with the state of our world and we are happy to be able to meet that demand."
Sixth-generation St. Simons Islander Heather Shadron is known for her celebration bowls – hand-thrown bowls that celebrate life's major occasions, especially weddings and births. But with the COVID-19 pandemic, she's been designing functional pieces – mugs, plates and bowls – that are colorful and bring joy to their owners' tables.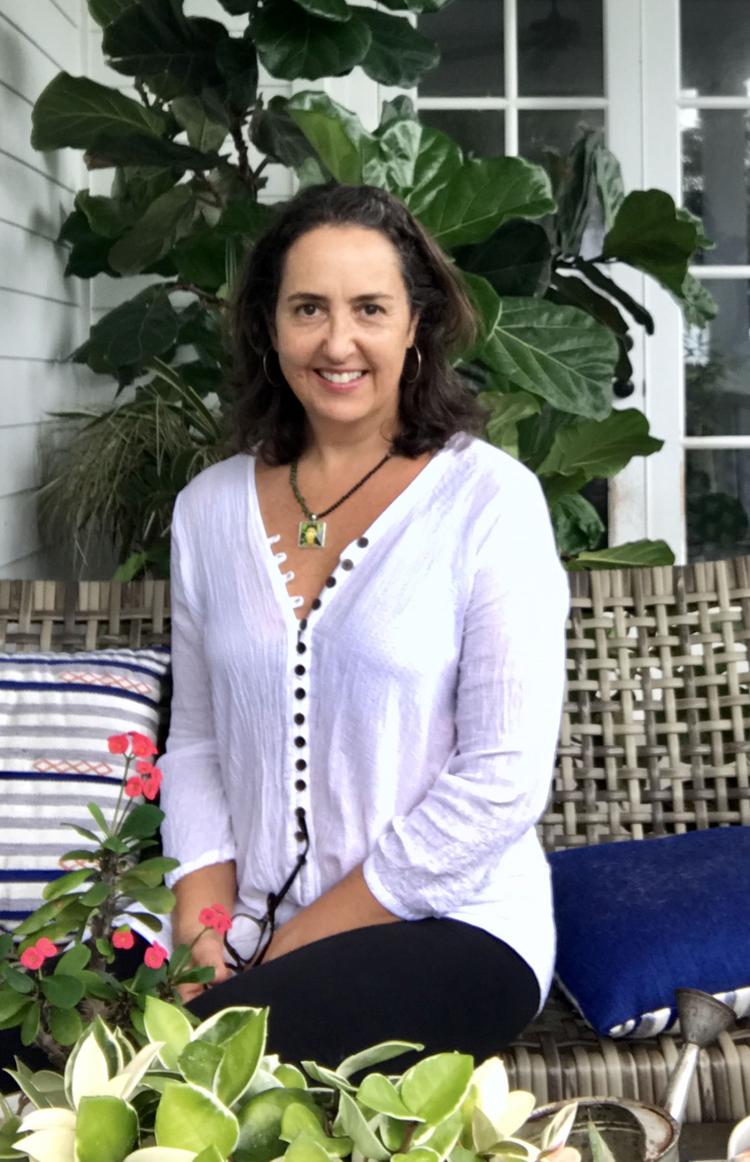 "I was a junior in high school the first time I ever touched clay, and I never stopped," she said. "It was love at first touch."
After she finished college in 1992, she returned to St. Simons and began selling her pottery.
During the pandemic, she's been making a little bit of everything, she said.
"It's been a blessing and a curse," Heather said. "I normally don't have mugs, bowls … but I've had time to work on some other things."
Heather believes that makers, and the craft movement, are on a growth trend. Ceramics, she said, have become a particularly "hip" thing to buy.
"People like going back to their roots, before everything was high-tech," she said.
Handcrafted items are a world apart from those things that are mass-produced, she explained.
"Every part of the process has been touched by your hand; it makes it unique. No two of anything are going to be alike," she said.
"There is a personal connection between the maker and the owner." —heather shadron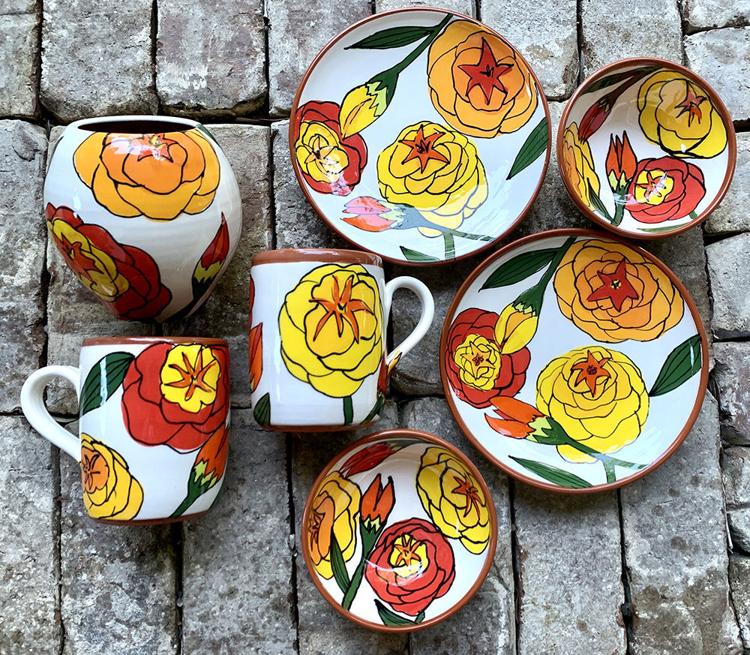 Being the maker of one-of-a-kind art is rewarding, she said.
"It's nice, particularly now, when people are interested in buying something simply because it's cheap," Heather said.
Heather's pottery can be found at The Tabby House, on St. Simons Island, on her website at www.hshadron.com and on Etsy at www.etsy.com/hshadronpottery.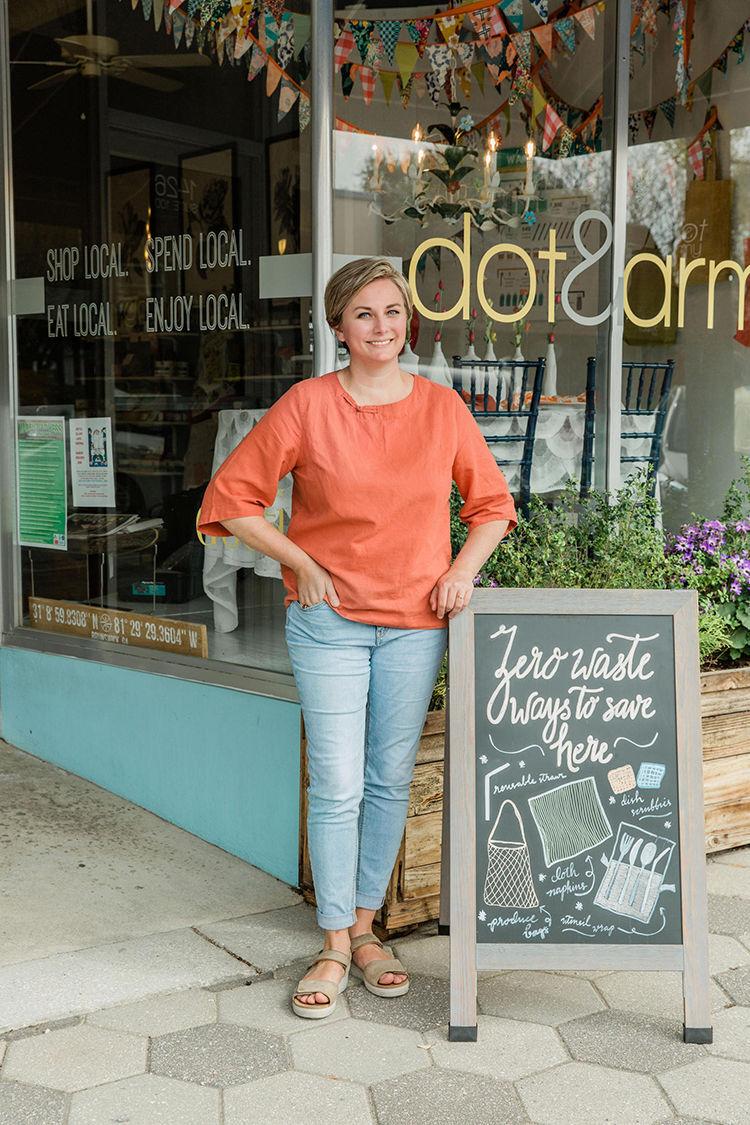 Textiles are another field into which makers are expanding. Jennifer Zamudio, the owner of Dot & Army, a company in Brunswick, makes all sorts of fabric items for people who want to live a bit more sustainable lifestyle. Fabric has always held a fascination for Jennifer; for as long as she can remember, she has been interested in fabrics, colors and patterns. And, before she began making her current product line, she made little girls' dresses out of vintage tablecloths.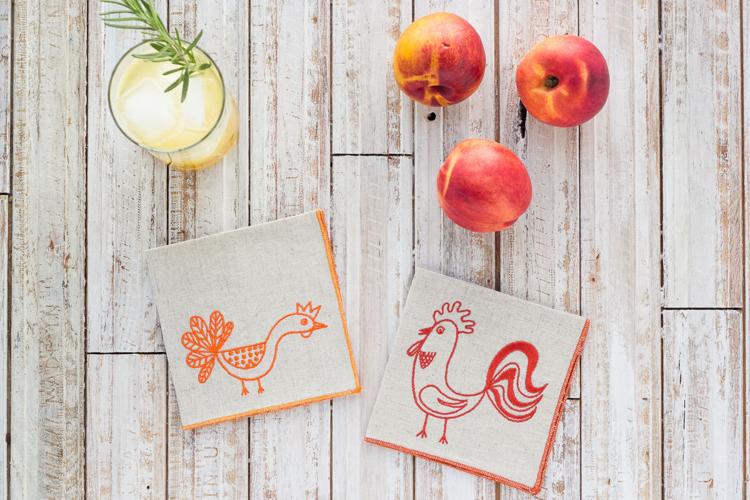 Cloth napkins, food nets, bowl covers and produce bags are all designed to be beautiful, and they help the environment as well by cutting down on the reliance on one-use products.
The company was founded 11 years ago, when the Zamudio family lived in San Francisco. Jennifer said at first, it was a job on the side. Once they relocated to the Golden Isles, it became her full-time job.
"As a family, we decided to stop using paper towels," she explained. "We began using only cloth napkins, and I would shop for vintage ones we could use."
It was then the proverbial light bulb came on, and Jennifer began buying fabric and making napkins for her family's use. She quickly realized she had a marketable product.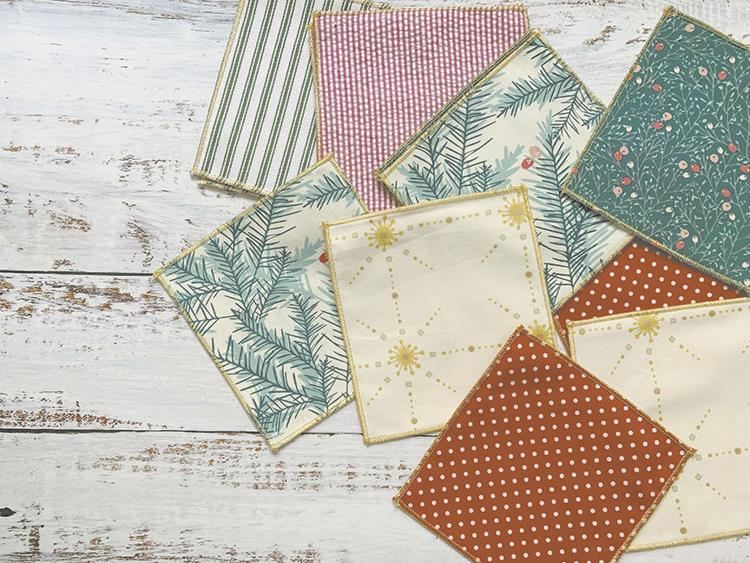 Jennifer said people like handmade items because there's a story behind them.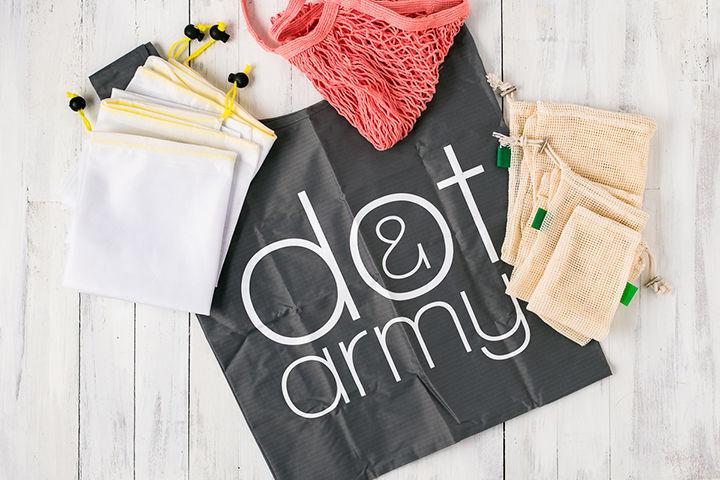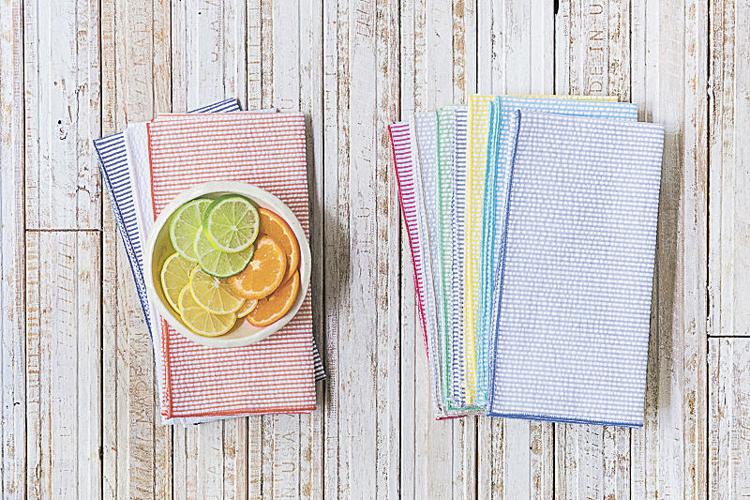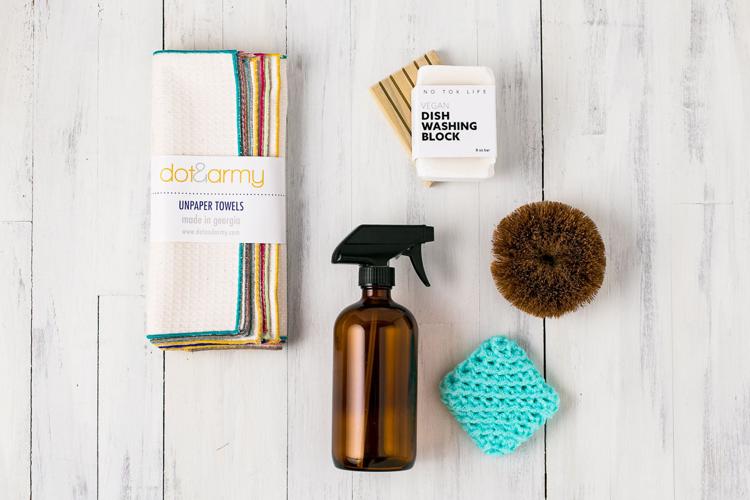 "You know where you bought it; you know its history," she said. "I think people like the story behind the product."
Although Dot & Army previously had a storefront where its workshop remains on Newcastle Street, the decision was made to convert it to a manufacturing facility and operate an internet-based business. The company does both wholesale and retail sales. Locally, Dot & Army products can be found at Uncle Don's Market, on St. Simons Island, or, customers can visit the website at
www.dotandarmy.com and either have items shipped to their homes, or schedule a pickup at 1426 Newcastle St., No.100, in downtown Brunswick.