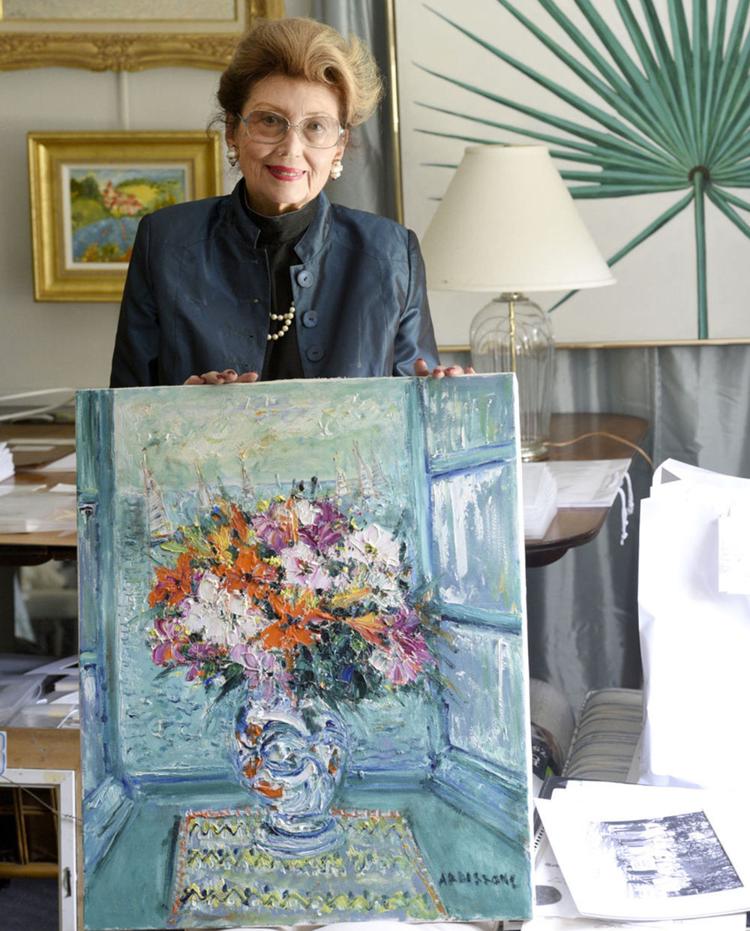 You've bought the house, and filled it with exquisite furniture and decor, but the bare walls are less than appealing, and seem to be mocking you. Nothing pulls a room together like well-decorated walls, but making the right choices can be overwhelming for young people new to the art market. The first steps are to familiarize yourself with fine art, know what you like and buy the best you can afford.
Learning about and buying art is a simple process in the Golden Isles. There are a plethora of talented artists in the area and plenty of galleries where their works are displayed, to browse through. Many galleries are open for business, with some pandemic-related modifications. When we return to normal, take advantage of exhibit openings and art walks to get acquainted with not only the galleries, but people who also have an interest in art. As you visit galleries, meet with their owners and familiarize yourself with their inventory. We spoke with a noted art expert, and three people in charge of galleries for their recommendations on how new collectors should begin the process.
Legendary art dealer and collector Mildred Huie Wilcox, former owner of Left Bank Gallery, on St. Simons Island, has some tips for novice art buyers.
"Familiarize yourself with the works of Matisse, Monet and other Impressionist (and) Post-Impressionists artists, such as Derain, Didier and Mildred Huie," Wilcox said. "Their dramatic use of colors will enhance any home."
The late Mildred Nix Huie was Wilcox's mother, and a St. Simons artist for more than 60 years.
Wilcox's other tips include:
• Visit as many art galleries and museums as you can. This will help train and refine your artistic "eye."
• Try to build solid relationships with local artists and galleries, as this will benefit both you and the local arts community.
• Always do your best to purchase original pieces.
• Be sure to utilize the natural beauty and mystique of your surroundings to enhance your interior design.
• Most important, make this an enjoyable occasion where art becomes the center of your design.
A great place to start your search for art is Glynn Visual Arts, a nonprofit community arts organization at 106 Island Drive, on St. Simons Island, that features a number of artists who specialize in a variety of genres. Terri Evans, GVA executive director, said first-time collectors should consider Dr. Betty Oliver, a native of St. Simons Island.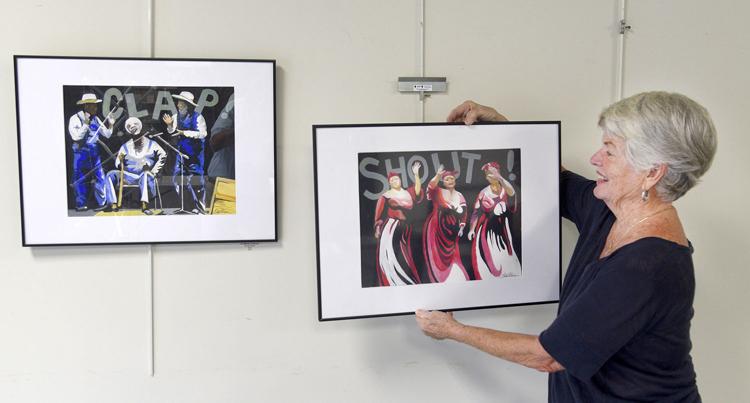 "Her works fall in a price range that new (and old) collectors might find affordable – typically $250 to $500," said Evans. "She sells originals in a variety of mediums and also limited edition prints."
Oliver began her art training when she was a child, taking Saturday classes from the late Bill Hendrix at Island Art Center, which is now GVA, and continuing her studies at University of Georgia, finishing with a Ph.D. in art appreciation/aesthetics. She then became a faculty member of Southern Polytechnic State University in Marietta, where she was a professor of media arts. In the ensuing years, she has studied with a number of noted watercolor artists, and is an active member of the Atlanta Artists Center, the Georgia Watercolor Society, the American Society of Marine Artists, Glynn Visual Arts, and the Ossabaw Artists Collective. After retirement she returned to St. Simons Island and with her husband, and maintains a 150-year-old log cabin in Dahlonega.
Oliver, of course, encourages young people to buy art, but cautions them to pay attention to their instincts.
"I think it's more important to teach people to invest in local art that they like, and is affordable for them to own, rather than someone telling them what they should like."
Mary Anderson, at Anderson Fine Art Gallery, shows an array of fine art from a variety of well-known artists from this region and beyond. Her recommendation for new collectors was Catherine Hillis, who's traditional landscapes, still lifes and figures, draw the viewer in.
Hillis was always drawn to the arts, and worked as a model when she was a child.
"I could draw and paint without effort," she said "… I'm relaxed and happy when I paint, and if I'm working outdoors, with the sun shining, the birds singing and breezes blowing, I cannot be happier."
She admires a number of masters, including Winslow Homer, John Singer Sargent, Edward Hopper and Andrew Wyeth, and is in demand as a teacher as well, having served as a faculty member at the renowned Art League School, in Alexandria, Va., Frederick Community College in Maryland and numerous art centers across the U.S. and throughout the world. She has won numerous awards and been featured in a number of publications.
"I continue each year to conduct workshops nationally and internationally," she said.
Newcomers to the art world shouldn't limit themselves to collecting two-dimensional works, however. Sculpture adds an entirely new layer to an art collection.
Roz Harrell, one of eight artists at ArtTrends, an art cooperative at 3305 Frederica Road, on St. Simons Island. Harrell, a clay artist, makes one-of-a-kind pieces.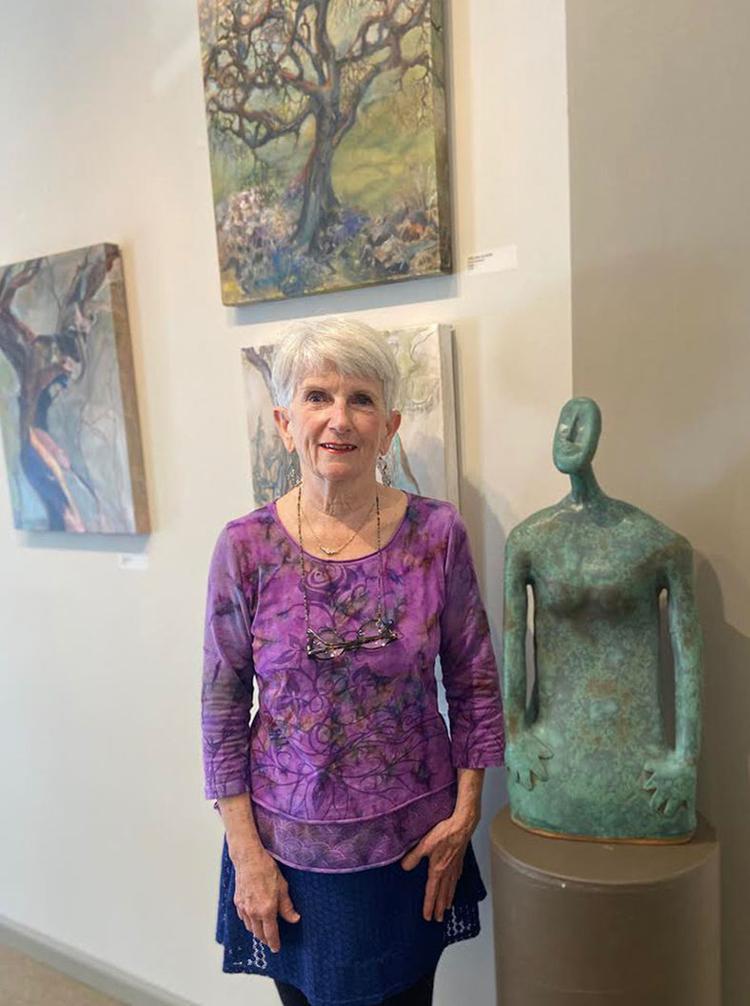 "They add colors, textures, an earthiness to a room," she said.
Harrell doesn't "throw" her clay regularly. She does slab work – presses natural elements into a slab of clay and then forms the clay to the shape she desires before firing and glazing it. Objects found while she's out kayaking or walking in the yard outside her studio typically become part of a piece.
For the first-time buyer, Harrell said, clay art, which comes in a range of price points, is versatile and takes many shapes, forms and colors.
"Three dimensional art puts other art into perspective and stands on its own," she said.