There are multiple signs spring has arrived in the South, but I'd bet my bottom dollar that three of the favorite indicators are Atlanta Braves opening day, the availability of Vidalia Onions in grocery stores and at farmers' markets and last, but not least, the annual running of the Kentucky Derby.
The "greatest two minutes in sports" is back in full swing after two years of COVID-19 adjustments, and will celebrate its 148th spin around the storied track at historic Churchill Downs in Louisville, Ky. A slightly newer tradition – but only by 128 years or so – is Frederica Academy's Derby Day, which returns to its full splendor on May 7 at the Sea Island Retreat Clubhouse, on St. Simons Island.
Derby Day is Frederica Academy's signature fundraiser, and has become a staple of Golden Isles' events calendars. Attendees will enjoy a simulcast of the race, the always-epic hat parade, an online silent auction, a live auction and delicious food and beverages. Finally, following the live auction, an after party featuring Mason Waters and the Groove Allstars, will begin. In fact, Frederica Academy Derby Day is as close to the experience of the real "Run for the Roses" as you can get without having to travel to Louisville.
Derby Day revenue directly supports the mission of Frederica Academy – "To maximize the potential of each student and to prepare every student for college and adult life through the development of mind, body, and spirit."
Ladies, this is your chance to express your inner Southern Belle, so put on your most beautiful spring dress, add a fancy hat or fascinator, pour yourself a mint julep and relax. Gents, your dress code is it bright, light and preppy. This is not the time to be restrained, so put the kibosh on khaki pants, white shirts and navy blue blazers. Wear those bold pants, gingham shirts and sherbet-colored ties.
As it turns out, you don't have to know anything about horses to enjoy the pageantry, pomp and circumstance of the Kentucky Derby. Enjoy the scenery of the day, and raise your glass to bow ties, bonnets and fine Kentucky bourbon.
This year, Frederica Academy is celebrating its 20th Derby Day and we had an opportunity to speak to a few local chairpersons about their memories and experiences heading up the always-anticipated event.
We spoke with this year's co-chairs, Dana Carter and Katie Widener, before going back to the beginning, and speaking with co-chairs from years' past.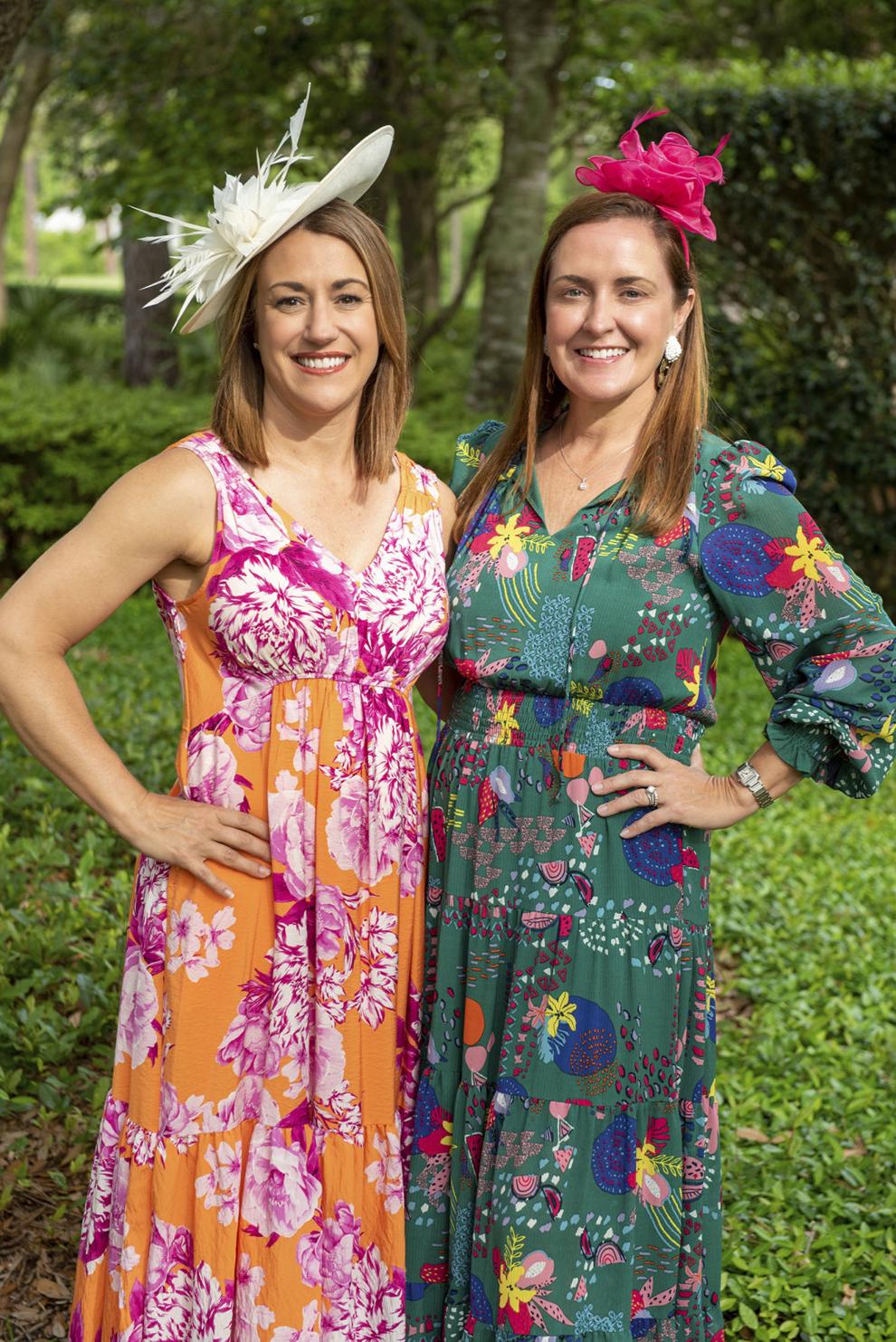 DANA CARTER, 2021+ 2022
• Favorite thing – Being able to co-chair Derby Day is always exciting. We work closely with each other and Frederica's leadership team on all aspects of the event. It is fun to see the anticipation grow as the event draws closer! As an added bonus, we get a sneak peak at the class projects that our lower school classes donate.
• Co-chairs – This year, Katie and Jason Widener will join my husband, Denny and I, as co-chairs.
• Bringing it back –We are still working on a few details. We are excited to bring back some live music and our silent auction will be online again this year. Raffle tickets will also be available online – this year's raffle is amazing!
• Looking forward – The live auction is always a fun part of the event. This year we will have some great items that are sure to bring some excitement!
KATIE WIDENER, 2022+ 2023
• Favorite – I love that Derby Day is a community-wide event that brings everyone together and benefits so many aspects of the school.
• Recovery – We do not have anything new this year, but look forward to bringing back the traditional Derby day event we have had in the past. We will have our wonderful silent and live auctions. After the live auction, we will have Mason Waters and the Groove Allstars play for a time of fellowship and fun. We weren't able to do the band last year due to COVID restrictions.
• Anticipation – I love all aspects of Derby Day from the outfits and the hats, to the live auction, which is always action packed and exciting.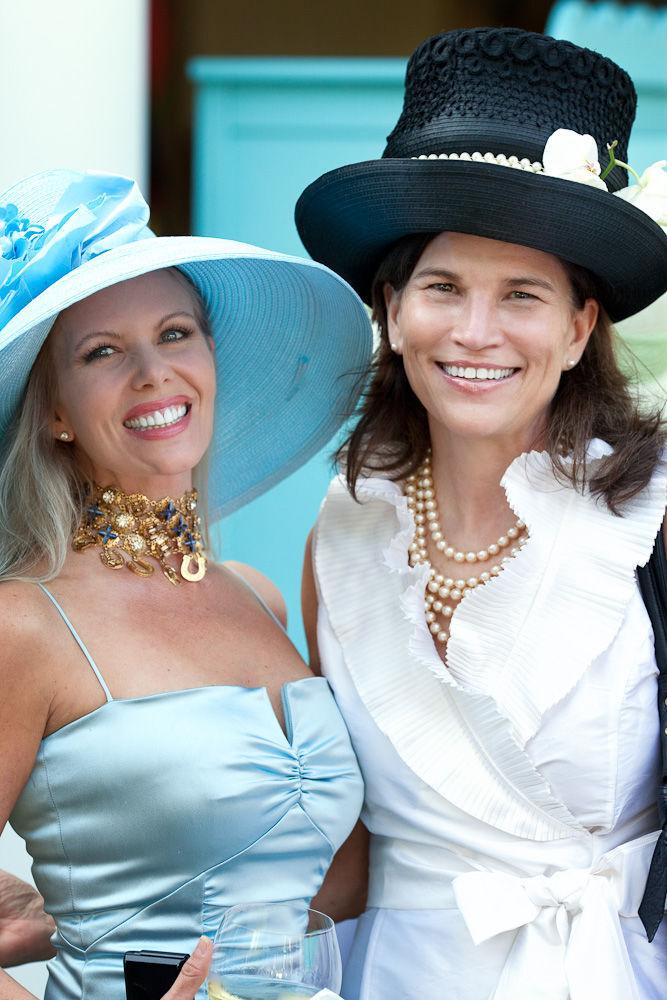 DANA PARKER, 2014+ 2015
• The backstory – Dana Parker and husband Patrick had been attending Derby Day long before their children were enrolled in school there..
• Behind the scenes – Chairing the event was when I first really got to know John Pope (the school's director of advancement). He makes Derby Day! He works all year and, and never takes credit. He really does such a great job, with the silent auction and live auction. He works all year long.
• Favorite memories – I co-chaired with Gail Brady and Elizabeth Veal, and we had so much fun. Beachview (owned by Elizabeth and her family) supplied the linens, tables and decorations. We had a great silent auction.
• Something new – The live auction is always a fun part of the event. This year we will have some great items that are sure to bring some excitement!
• Perfect attendance – We have not missed one. We've been to 19 Derby Days so far.
DANA MANNING, 2002 Founder
• The beginning – I was board chair the year we started Derby Day. It was spring of 2002, after 9/11. We had decided not to have an annual parent council fundraiser due to the mood in the country. By February, as we worked on the following year's budget, it was clear we were not going to be in the black without some kind of shot in the arm. I put on my fundraising thinking cap … Back then The Shepherd Spinal Center had a Derby Day event …, so I proposed to the board that we try it. I thought we could make $50K. Parent council stepped up. Bill Jones allowed us to have it at his property on the marsh out Lawrence Road. We had Sonny's Barbecue, Sea Island Co. supplied all the tables, chairs, bar and servers, and Trey Brunson brought the big screen. We had an auction mostly of student artwork, with a few live auction items. Tommy Bryan and Emory Hicks ran the betting booth. Tickets were $50. We raised $55K.
• The second chapter – The next year we had it at my house at the time, Everglade, on Lawrence Road. Sea Island split the cost of a Beatles cover band that played at Derby Day first, then at the Beach Club that night, and supplied the food and spirits. I think after that it moved to the Island Club …
• Fond memories – It was a pleasure working with FA parents in those early Derby Day years. I was always amazed by the generosity and commitment I saw. … I can assure you, we never imagined it being as successful as it is now. Thanks to all the chairpersons, volunteers and donors along the way. And all those charming hats!!! My favorite part!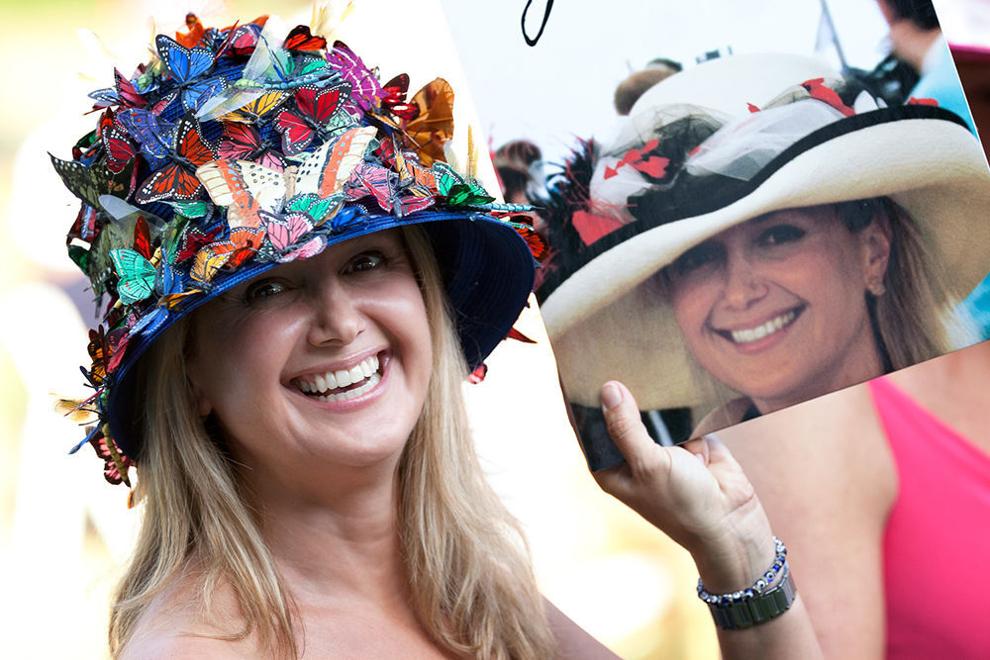 GEORGIA KELLOGG, 2004
• Favorite memory – My favorite memory of being a chairperson for Derby Day was when my co-chair Lynn Love and I decided to open up the event to the public. It was previously a private event that included parents, grandparents, staff and alumni of Frederica Academy, held at the home of Bill Jones III on Lawrence Road.
• Stormy weather – As the event was getting closer (to the event) we knew there was a good chance of rain, so Mr. Jones graciously agreed for us to have it inside at the Corn Barn! The event was catered by the late Boz, who owned Gnat's Landing. The menu was traditional Kentucky Derby-style and included BBQ sliders, fried chicken, pecan pie tarts and, of course, mint juleps
• Success – We had a sold out event, and the Corn Barn was packed full of people wearing their Derby attire and beautiful Derby hats.
• What's new – Since this was the first Derby Day party that was open to the public, we decided to include a live auction that included a puppy and other big items, along with a great silent auction that helped us raise our monetary goal! We also had a Derby hat parade to add more fun to the event! Despite the pouring down rain and bad weather, everyone had a great time!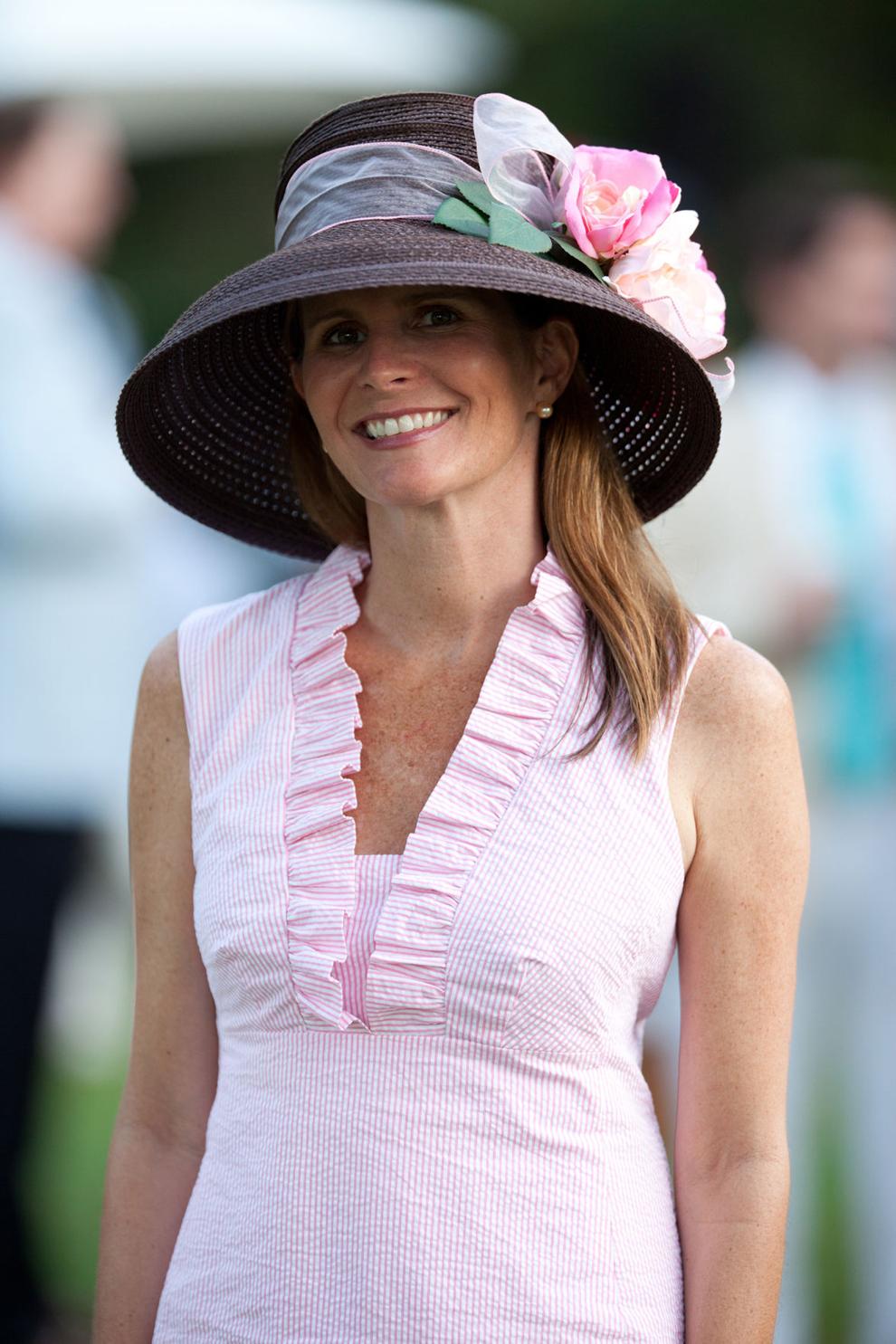 ELIZABETH BRUNSON, 2004
• Favorite memory – My favorite memory of being a Derby Day chair was seeing all the love and labor that went into chairing this special fundraiser for FA. The amount of community support and the time that the parents and FA faculty put into volunteering for this special day was incredible. Knowing that what was raised would directly benefit so many FA families made me so very proud to be a part of this amazing event.
• The right ingredients – Our year was special because we were able to have a fabulous event at the Retreat Clubhouse with a great team of volunteers! I always am in awe of the amount of people that turn out to support our school with their generosity thru the silent and live auctions. The puppy is always a huge hit! The iconic mint julep being served is always a great way to start the day! And with the addition of the raffle and the betting table for the race, there is always a fun, action-packed event going on throughout the evening!
• FA Forever – We will always continue to support Derby Day and it is just amazing how far it has come over the last 20 years! Go Knights!
CAROLINE CHAMPION, 2010
• Favorite memory – My favorite memory is working with wonderful friends many months in advance to bring one of the island's premier fundraisers into a successful event. Particularly in the year we chaired, which followed the 2008 financial crisis.
• Co-chairs – Chip and I co chaired with Liz and David Bansmer. Her energy and enthusiasm for our school was darling. We are still very good friends to this day.
• Atmosphere – We will always continue to support Derby Day and it is just amazing how far it has come over the last 20 years! Go Knights!
• Dedication – Chairing an event like this takes many months of preparation. Truly an experience you have to go through to believe. It was so worth the effort in the end to know that we helped our school fulfill and exceed their funding needs. The friendship takeaways were priceless too when you can look around and see how everyone steps up to the plate to help, whether it be with their time volunteering or their money or better yet – both! A great time was had by all.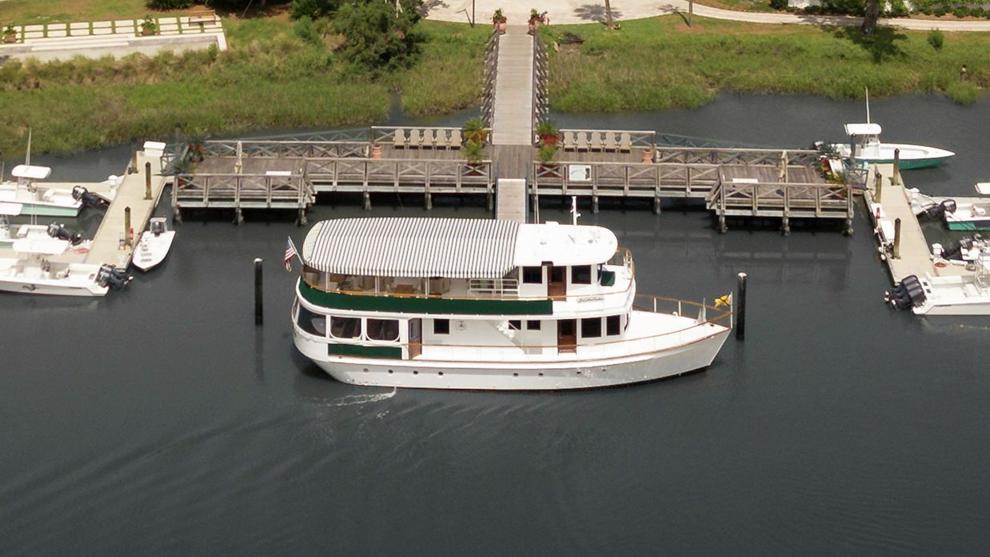 FREDERICA ACADEMY'S, 20th Annual Derby Day
Frederica Academy's 20th Annual Derby Day will be from 5-9:30 p.m. May 7 at the Sea Island Retreat Clubhouse. The event is presented by Sea Island and Beachview Event Rentals & Design. Co-chairs are Dana and Denny Carter and Katie and Jason Widener.
This year's raffle, which always generates a lot of buzz, is unparalleled. A Sea Island Explorer cruise, valued at $15,000, is the prize. The lucky winner will be able to take 39 of his or her best friends (for a total of 40 guests) on a cruise through local waters aboard the 71-foot Sea Island Explorer. Once onboard, enjoy cruising through the marshes and waters surrounding Sea Island, including oyster beds and mud flats. The afternoon or evening cruise will provide a relaxing vantage point from where to spot shorebirds and dolphins along the way. The prize includes a two-hour cruise, passed hors d'oeuvres and two curated food stations and a premium hosted bar. Tickets are one for $50; five for $200 and $15 for $500.
All details and updates regarding Derby Day, including sponsorships, silent auction, live auction, and the raffle can be found on the Derby Day website, which can be accessed in two ways:
• Text FADerby to 76278
• Visit FADerby.givesmart.com
Derby Day Schedule
• 5:00 pm - Gates Open
• 6:35 pm - Announcements
+ Raffle Drawing
• 6:45 pm - Kentucky Derby Simulcast
• 6:50 pm - Live Auction
• Post-Auction Band Party with Mason Waters and the Groove Allstars
• 9:30 pm - Last Call
There were no definitive plans for Kentucky Derby watch parties at local bars and restaurants at the time of publication, but we've rounded up a list of fantastic area watering holes where people gather to watch sports.
Brunswick
Marshside Grill
1200 Glynn Ave.
Tipsy McSway's
1414 Newcastle Street
St. Simons Island
Brogen's
200 Pier Alley
Brogen's North
3600 Frederica Road, #1
Certified Burgers+Beverage 44 Midway Square
St. Simons Island
Gnat's Landing
310 Redfern Village
Mellow Mushroom
440 Kings Way
Jekyll Island
Tortuga Jack's
201 N. Beachview Drive
Wee Pub - Beach
20 Main Street,
Unit 100