Pretty much everyone who lives here or visits the Golden Isles this time of year knows that typically, during the last weekend of October, the University of Georgia Bulldogs meet the University of Florida Gators in Jacksonville for a border brawl the payoffs of which include huge broadcast revenue and, more importantly, bragging rights for the team that emerges victorious.
The game, important as it is, seems almost to pale in comparison to the celebrations leading up to it. On St. Simons, Jekyll, and Brunswick, crowds of fans, mostly clad in the red and black of Georgia, are seasoned with some folks wearing the blue and orange of Florida. In the few days leading up to kickoff – scheduled for 3:30 p.m. Oct. 30 at TIAA Bank Field in Jacksonville – there are dozens of social events to fill everyone's calendars. Restaurants and bars will be at full-tilt, live music will play everywhere and cocktails will reign supreme. Whether you live here or not, you'll enjoy the tips our resident Georgia and Florida fans have to offer.
Caroline Champion: President Golden Isles Chapter, UGA Alumni Association
eat: Redfern Village. Golden Isles Olive Oil, on the patio for a ladies' lunch with their hummus appetizer and a glass of vino before moving on to their yummy curry chicken salad. Sushi on the porch at Fancy Q – all of their signature rolls are amazing. Homemade sandwiches from Sammies that are easy to pack and take along to the beach or on the road. "A must stop Georgia-Florida week will be at Gnat's Landing on Wednesday the 27th for the annual UGA Alumni Association Golden Isles Chapter Let The Big Dawg Eat happy hour. Come grab a beer and some of their famous fried pickles. All fans are welcome to join."
sip: The deck at Brogen's South with its charming ocean view. Frosé (frozen rosé) from The Porch, and Halyards bar is a must-visit. Fave bartender? Chris Maxwell at Halyards. Favorite wine? Whatever pinot noir Maxie recommends. Other favorite place for a cocktail would be the lawn at the Lodge at Sea Island to enjoy the evening bagpipes and a glass of prosecco.
shop: Must-stop shops are Two Friends, TIBI, MariMax and KJ Clothier.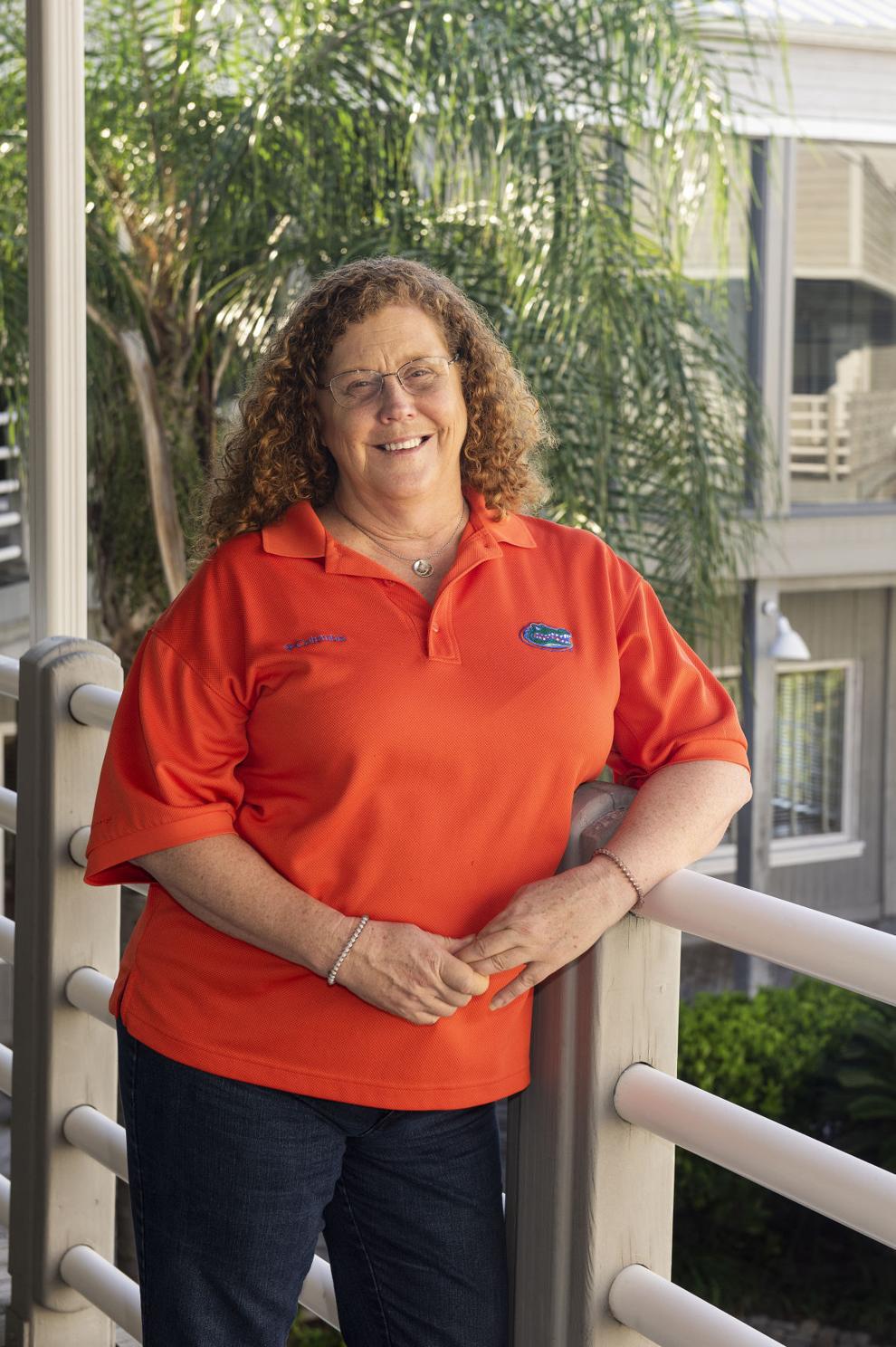 Cindy Stephenson: Account manager, McGinty-Gordon Insurance and server, Tramici
eat: Florida Gator fan Cindy Stephenson has four can't-miss places to dine during Georgia-Florida weekend. At Tramici – Short Rib Goat Cheese Ravioli; Gnat's Landing – slaw bowl with blackened shrimp; Brogen's North – wings and Halyards brunch – French toast and BLT omelet.
sip: Her fave cocktail is the mojito Calli makes at Tramici.
shop: Tonya's Treasures, Ronne's, Yellow Canary and Two Friends.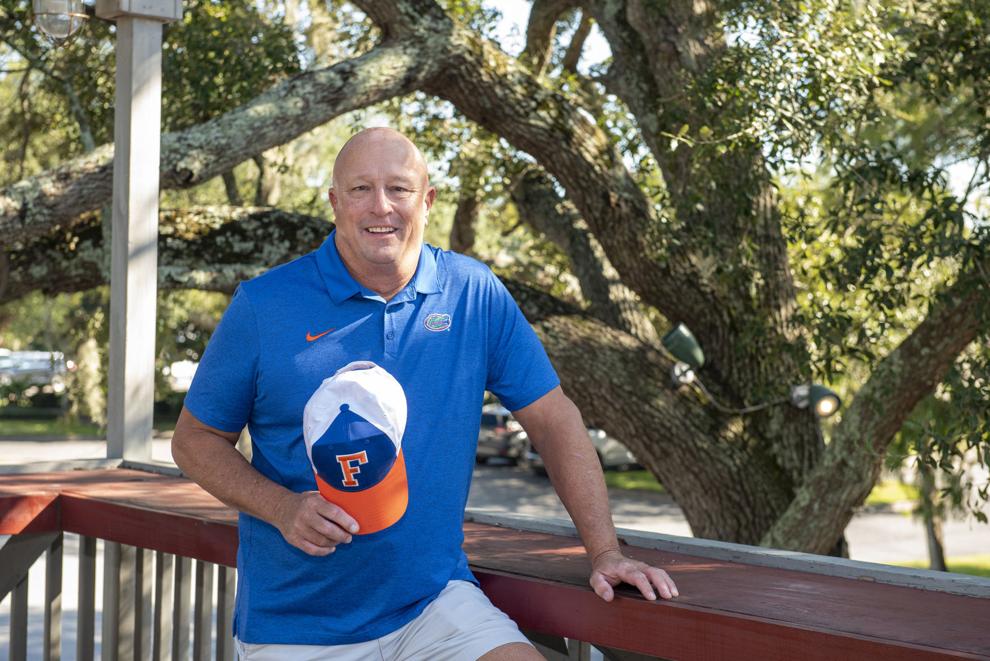 Jim Weidhaas: Retired Glynn County Board of Education
eat: Jim, our other Florida Gator enthusiast, gave short, sweet answers. Crabdaddy's, blackened grouper with crawfish cream sauce; Brogen's North, the Brogen's Standard pizza and hot wings finished on the grill; Bubba Garcia's, nachos.
sip: Gnat's Landing where he enjoys Boz's $8,000 margarita made by Lance.
shop: ShoreBirds Package has a drive-thru.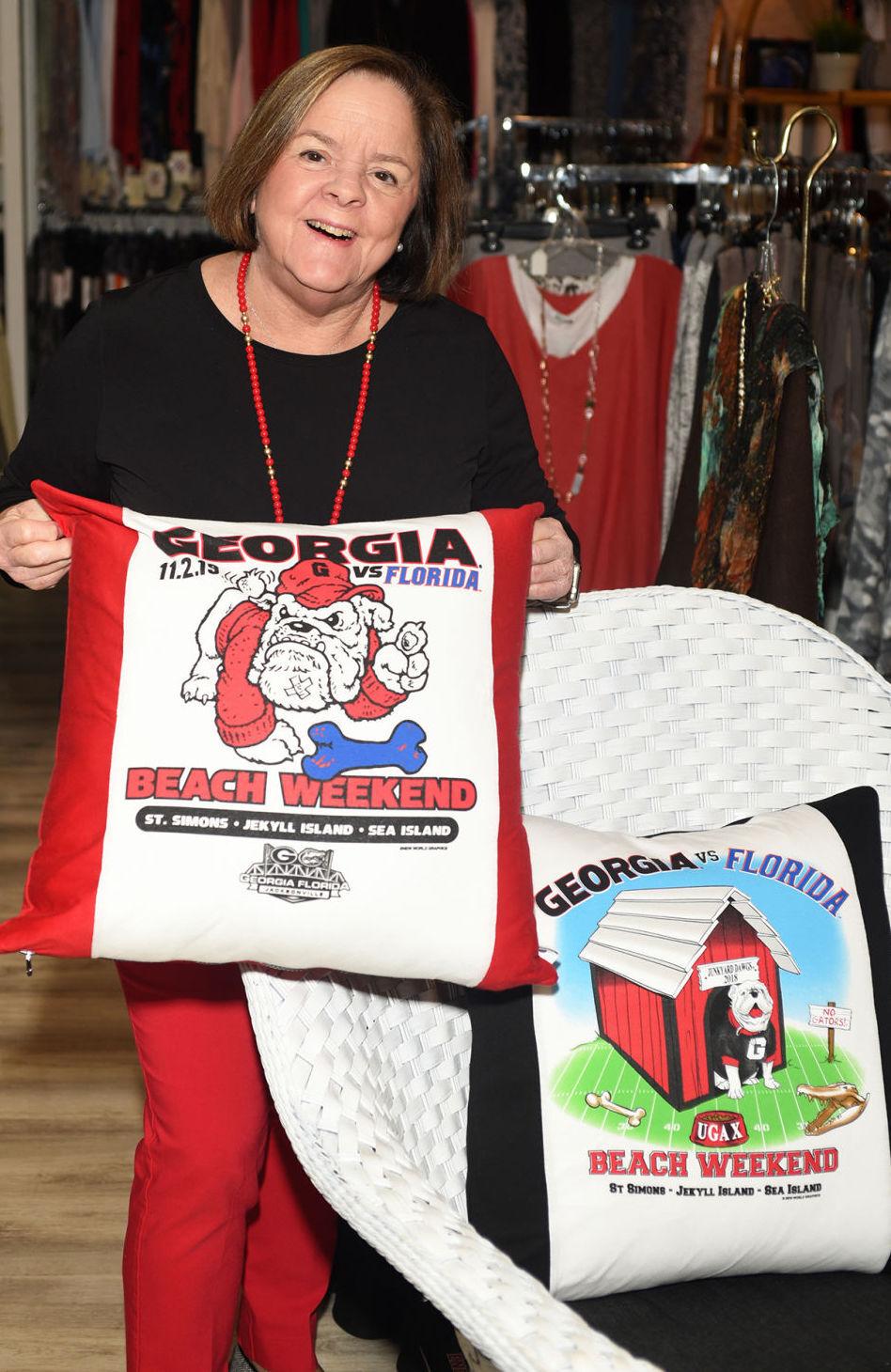 Merrill Edens: Manager/Buyer, Maggie's Boutique
eat: During the game, Brogen's in the Village because of the Georgia music playing and everyone cheering for the Dawgs. "They have the best burger on the island," she said. Crabdaddy's and Tramici are favorites for Friday night before the game, but reservations are essential, or you wait your turn at Fiddlers or Crab Trap. She likes the fried shrimp at Crabdaddy's, Fiddlers and Crab Trap, and the chicken piccata at Tramici. Other fun spots during game weekend are outside at Golden Isles Olive Oil and Catch 228, both in Redfern Village. "There are so many wonderful restaurants, it's hard to narrow the choices."
sip: A wine drinker, Merrill says everyone has a good Pinot Grigio.
shop: There's only one obvious answer … Lady Dawg Headquarters at Maggie's Boutique. There, shoppers will find an array of items, including pillows, gifts, apparel, costume jewelry and accessories.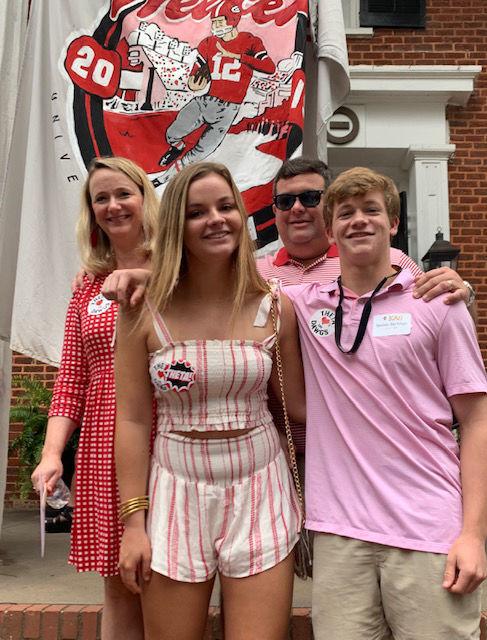 Ben Hartman: Partner, HunterMacLean, St. Simons Island
eat: The Hartmans – Ben, Leslie, Hill, Curry and Spence – typically have a house full during Georgia-Florida weekend, but Ben and Leslie also enjoy being out and about. Halyards and Crabdaddy's are favorites for their eclectic atmospheres during the big game. They order whatever fresh fish Dave (Halyards) or Josh (Crabdaddy's) are serving and have never been disappointed. Leslie's favorites are theTuna tartare at Halyards and the pan-seared tuna at Crabdaddy's. For the tailgate, they pick up fried chicken in Brunswick from Grandy's and plenty of Southern Soul on St. Simons Island, and to kick-off the weekend, there's an oyster roast.
sip: Maxie at Halyards is the Hartman's go-to bartender. Leslie loves Maxie's Bloody Mary and Ben is happy with any bourbon or tequila concoction Maxie puts together. They also like to have Maxie or Thomas pick a great glass of wine.
shop: Ben says Leslie and Curry spend a few hours during Georgia-Florida weekend shopping. They make stops at Meo's Suite, Tibi, Uncle Don's, Two Friends and Gentlemen's Outfitters. "I am typically not invited on this excursion – best for all parties."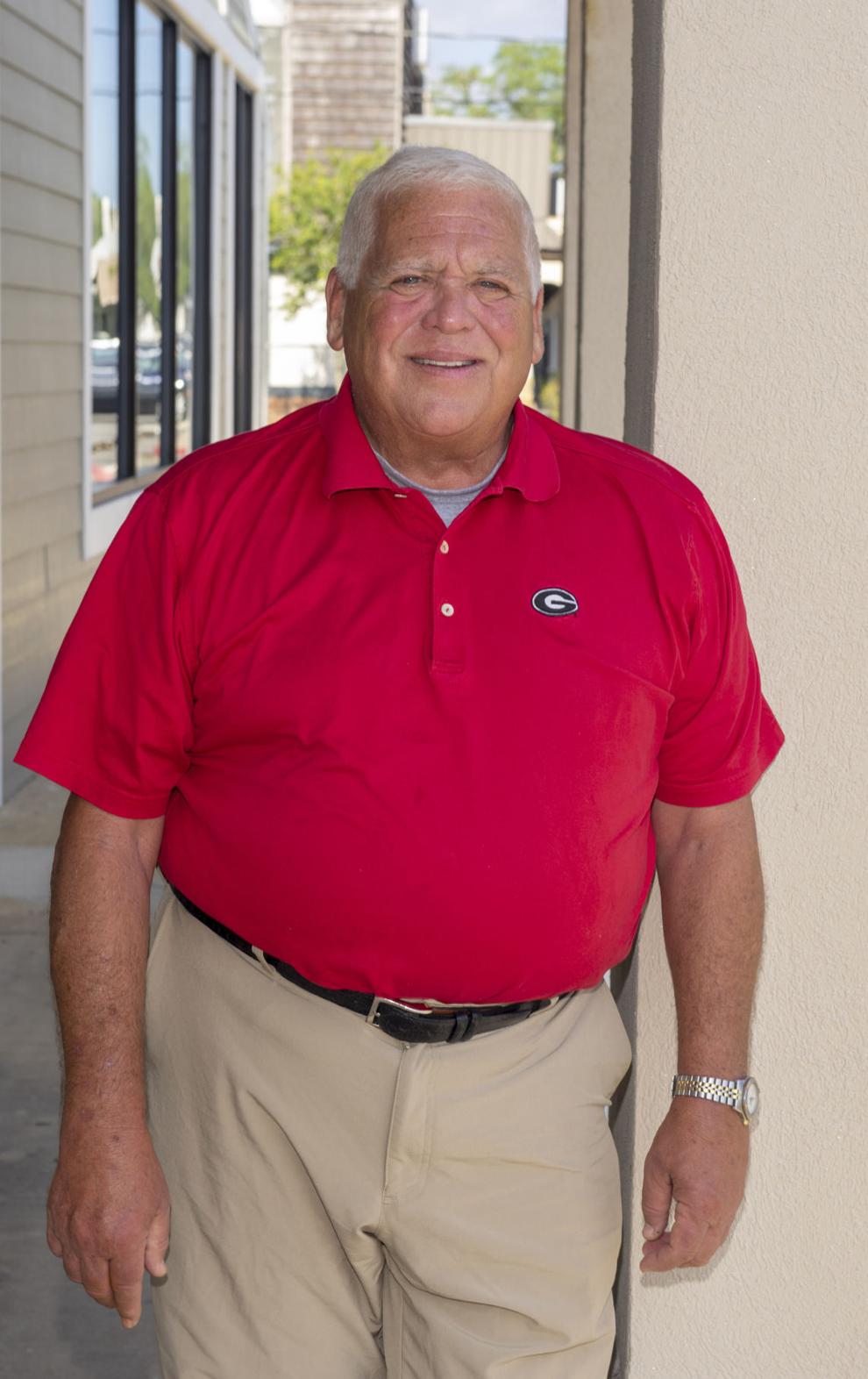 Tim Whorton: Realtor, Berkshire Hathaway Home Services Hodnett Cooper Real Estate
eat: Fiddlers, Catch 228, Georgia Sea Grill and Sago at Sea Palms are favorites. At Fiddlers he enjoys the flounder and the view of the marsh. It's oysters at Catch and the fresh catch at Georgia Sea Grill. At Sago at Sea Palms, he recently discovered their "delicious pizza." His true favorite is tailgating with his Sigma Chi fraternity brothers, and he says he's known for his pimento cheese recipe.
sip: Tim isn't a drinker, but enjoys accompanying friends to Brogen's South, Demere Grill and Mellow Mushroom with its happy hour prices. "Back in the day it was hard to beat a great margarita, and I'm told Chili Peppers makes a great one now – I tend to stick with sweet tea."
shop: Bullington's on St. Simons Island, the pro shop at The Lodge is second and Planter's Exchange.
Things to do during Georgia-Florida weekend
• The UGA Alumni Association – Golden Isles Chapter will host a "Let the Big Dawg Eat" from 5-7 p.m. Oct. 27 at Gnat's Landing. All Dawg fans and alumni are welcome.
• Retired University of Georgia Football Coach Vince Dooley will sign autographs beginning at 6 p.m. Oct. 29 at Mullet Bay Restaurant, 512 Ocean Blvd., St. Simons Island. Fans may bring an item they wish to have autographed. Free.
• Our sister publications, Coastal Cuisine and Golden Isles Magazine, are great sources for restaurants, cultural events and activities and information about the Golden Isles. They can be found at eateries, hotels, shops and professional offices throughout the Golden Isles.
Live music in the Golden Isles: Most venues haven't announced their live music performances for Georgia-Florida weekend, but you can always find live, local musicians and bands at these establishments. It's best to call in advance or visit golden isles.com for details. (SSI=St. Simons Island BWK=Brunswick)
Bennie's Red Barn | SSI | Wednesday-Saturday
Wednesday – Karaoke with DJ Tina
Thursday - Tony Adams 
Friday - Salt Water Gypseas
Saturday - 
* Brogen's South | Pier Village, SSI | Friday
* Bubba's Up | Redfern Village | SSI | Wednesday *
Catch 228 | Redfern Village | SSI | Wednesday, Friday+Saturday 
Wednesday - Levi Moore 
ECHO at The King & Prince Resort | SSI | Wednesday-Saturday
Wednesday - Rebecca Day
* Ember | Retreat Plaza | SSI | Friday+Saturday
* Georgia Sea Grill | Pier Village | SSI | Thursday-Saturday
* Gnat's Landing | Redfern Village | SSI | Friday+Saturday
* Golden Isles Olive Oil | Redfern Village | SSI | Saturday+Sunday
* Hotel Simone | SSI | Saturday
* Jekyll Island Holiday Inn | JI| Saturday
* Moondoggy's Pizza & Pub | BWK | Friday
* Sago at Sea Palms | SSI | Friday
* Silver Bluff Brewing Co. BWK | Sunday
* Sweet Georgia's Juke Joint | Jekyll | Friday
* The Boom Bar at Southern Table | BWK | Wednesday
* The Rooftop at Ocean Lodge | SSI | Thursday
* The Study at Reid's Apothecary | BWK | Thursday-Sunday
* The Wharf | Jekyll | Wednesday-Saturday
* Tipsy McSway's | Downtown Brunswick | Thursday-Saturday
* Tortuga Jack's | Jekyll | Wednesday, Friday+Saturday
* Tribuzio's Grille | Jekyll | Wednesday, Friday+Saturday
* V Pizza | Shops at Sea Island | SSI | Sunday
* Village Inn & Pub | Pier Village | SSI | Thursday- Saturday
* Wee Pub Beach | JI | Thursday
* Wine Alley at Wine, Body & Soul | Redfern Village | SSI | Friday
* Ziggy's | Retreat Village | SSI | Saturday