The poem "Introduction to Dogs, An," by poet Ogden Nash begins "The dog is man's best friend./He has a tail on one end./Up in front he has teeth./And four legs underneath."
He was correct. A dog is all those things and more. Not just activity partners, they provide nurture, comfort and unconditional love. Of course, many dogs are also valued for their ability to hunt, track and protect.
We talked to several local residents about their pups and what makes them special, and we have information from local animal rescue groups to facilitate your next adoption.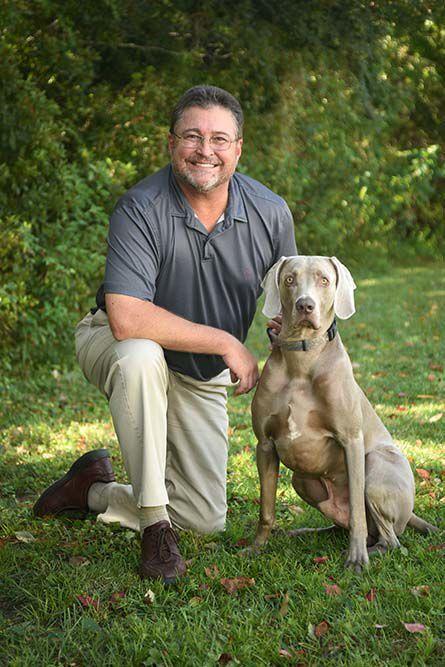 Rogan
is a 4-year-old AKC Registered Weimaraner formally named Rogan the Ghost Thompson, because of his gray coat.
Glenn is the owner of Coastal Appliances in Brunswick, and Rogan accompanies him to work every day. "He's very people friendly," Glenn said, adding that Rogan, who he trained himself, is very well-behaved. "He likes babies, kids and other dogs." Weimaraners are a hunting breed, and Rogan also enjoys retrieving birds, Frisbees and balls. "He's extremely fast, and loves to run."
Rogan's favorite place to go is the beach.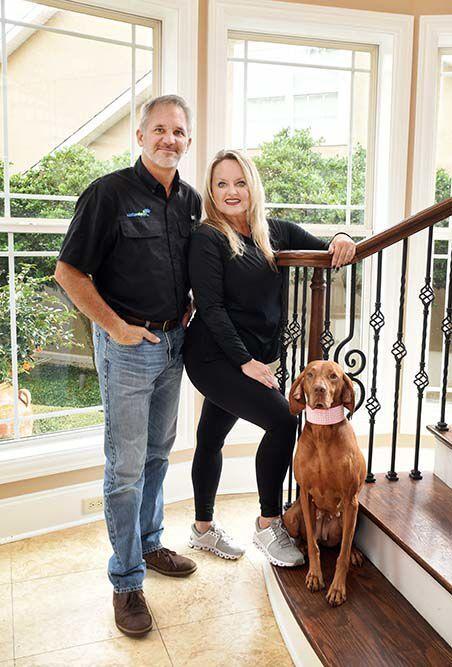 Pepper
is an AKC Registered Viszla and formally named Hot Pepper Fast.
"Pepper is a friend to all," said Valerie, a Realtor with Sea Palms Coastal Real Estate. Her husband, Shawn, is the president and owner of Southern Rain and Southern Lights Unlimited. "She loves her Golden Isles Vizslas, but she loves all creatures as a whole, especially her chickens, cats and duck."
Pepper's favorite places to travel around St. Simons Island are Village Creek Landing, Gould's Inlet and Sea Palms Coastal Realty.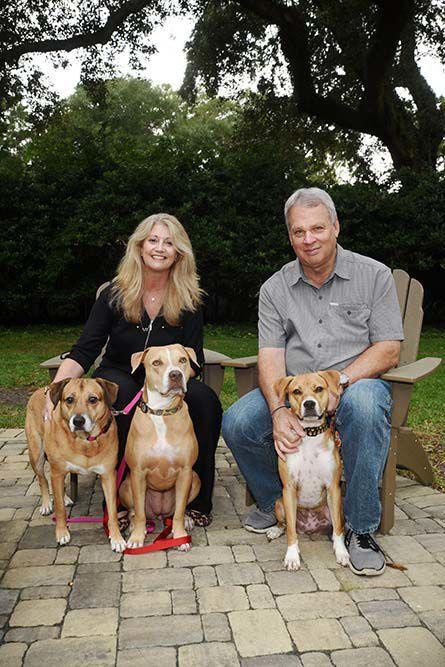 Carly, Molly +  Susie Q
may be three of the luckiest dogs on Earth. They have all been rescued by the Kendalls.
Chandra not only advocates for foster care and adoption of dogs through her role with No Kill Glynn County, she's also the proud "mom" of three canine rescues she shares with husband Steve. Chandra is an associate broker with DeLoach Sotheby's International Realty, and Steve Kendall is a Realtor with Great Oaks Properties, both on St. Simons Island. "Carly sat at the humane society for 15 months prior to us adopting her," Chandra said. "I found Molly running around the hospital parking lot; she had no chip and had been neglected. Susie Q is a foster fail." In the animal rescue world, a foster fail is when someone agrees to foster an animal until a permanent home is found, but when the time comes is unable to surrender the animal.
Favorite places to take the dogs include Frosty's Griddle and Shake for a Pup Cup, Island Dog for toys and accessories, the beach and Frederica Park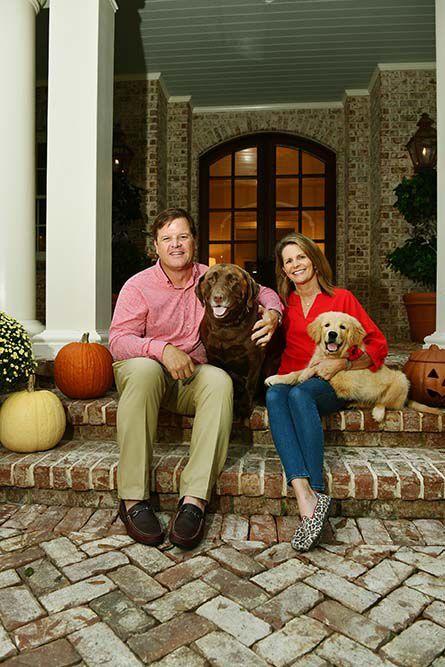 Molly + BELLA
are living their best lives with their family, the Brunsons. Molly, a Golden Retriever puppy, is the newest addition to the family.
Trey, owner of H&H Lifestyles, and Elizabeth, have enjoyed bringing a new pup into the household.
"She loves belly rubs, chasing our cat Skipper, playing tug-o-war with her sister, Bella, digging holes in our yard, walking in our neighborhood and barking at the deer, and going to our farm." Elizabeth said there are also frequent trips to Island Dog to pick out new chew toys, because Molly is still in her "chew up everything" phase. "Of course, all our fur babies are fans of the Dawgs and love to watch football with us on Saturdays. (And), both Bella and Molly love to swing through Starbuck's for a puppucino on hot afternoons, or Chick-fil-A for a chicken nugget or two. We are so lucky to have had such wonderful dogs to love on now that we're empty nesters."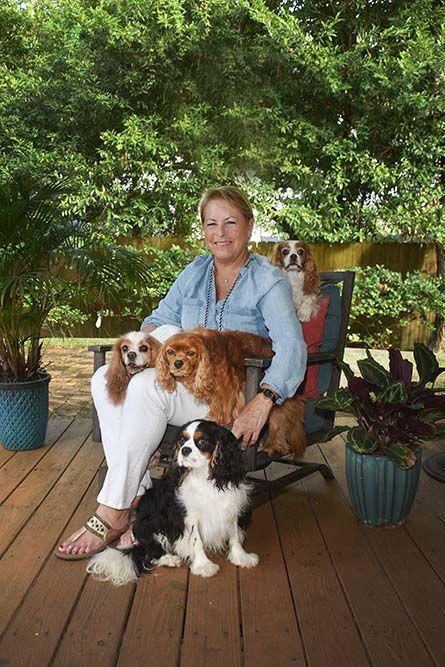 Leroy, Buddy, Dixie+Rhett
have all found homes with Joyce Gromada, who has had Cavalier King Charles Spaniels for 35 years now, and participates actively in rescuing and fostering them.
Her two dogs are Dixie Queen and Rhett Butler, a rescue named Leroy, and Buddy, who i in foster hospice care.
"They are the sweetest, loving dogs," she said. "Dogs have been the source of so much friendship in my life." She got involved with the King Charles Cavalier Spaniel family first through agility trials, followed by neighborhood walks and subsequently joining The Cavalier Rescue (TCR) as a volunteer several years ago. Through that organization, she can stay connected with her foster families and help others out with medical issues and travel. The friends have become invaluable to her. "In turn, they have provided me with extended family for holidays and a safe place to evacuate during hurricanes."
Joyce enjoys taking the dogs to Massengale Beach. "(They) love roaming off-leash and greeting other dogs and dog lovers," she said.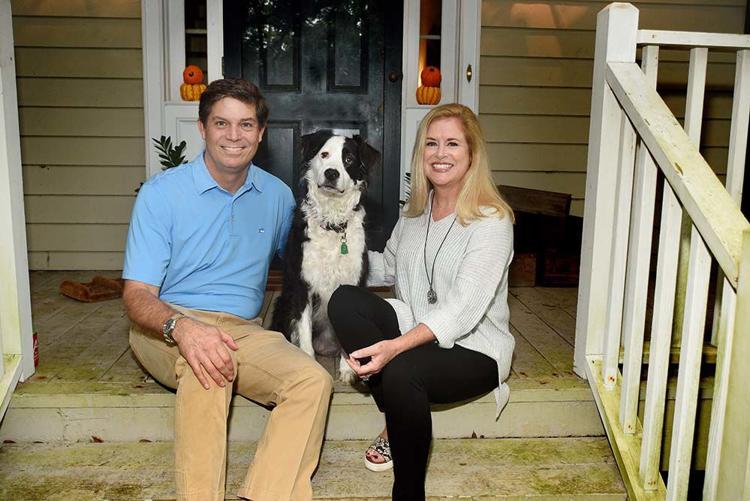 "Boo"
is a border collie with two nicknames – she also answers to "Boo Bear" and "Little Sister." Up until Boo came into their lives, the Brodericks always had big water dogs, like Labs and retrievers. "We learned very fast that border collies are super-intelligent," said Amy, development and community service manager at Hospice of the Golden Isles. Husband Andy is a real estate appraiser. "Boo has an extensive understanding of the English language." The family speaks to Boo in full sentences and spells words if she's within earshot and they don't want her to know that they're saying. Boo was 5 months old when she was rescued a few days before Halloween. "They named her Angie at the shelter, but we changed it to Boo in honor of the holiday and the catchy song lyrics, 'Me and you and a dog named Boo.' And what kind of dog name is Angie?"
Boo likes to be out and about – at Palm Coast for Saturday brunch, running on the beach or the family farm, or visiting the drive-thru at United Community Bank where her friends, Deja and Faith say "hey" to her over the speaker and give her treats.
Clearly, Boo brings much joy to the Broderick household. "Boo is the most precious, loving soul we've ever known. We joke that if you live a really good, honest life, you will be reincarnated as a border collie."