In the last century, small plate servings went, for want of a better term, viral. Rooted in civilizations far east of here – think of Spanish tapas, Italian antipasto, Chinese dim sum and mezze from the Middle East – and you can see where the idea for small plates originated. Small plates are now as much a part of mainstream American culinary pursuits as the perfect steak.
Shifting eating habits have also contributed, as has the growing popularity of a wider range of food choices. But, no matter the origin or the reason, these dishes, both perfect for sharing or combining for a meal, promote fellowship among family and friends.
At Georgia Sea Grill, Zack Gowen changed the menu to include more small plates when the restaurant moved from its original Beachview Drive location, to its current spot on Mallery Street, on St. Simons Island.
"We put an emphasis on it that wasn't there before, after we saw there was room for it," he said. "People like to have a little bit of this and that; it encourages sharing."
We recently stopped by Georgia Sea Grill to chat with Zack Gowen and executive chef Tim Lensch to get the skinny on how to replicate some of the restaurant's small plates at home. Chef prepared four of the most popular dishes, and he and Gowen graciously shared cooking tips, recipes and samples.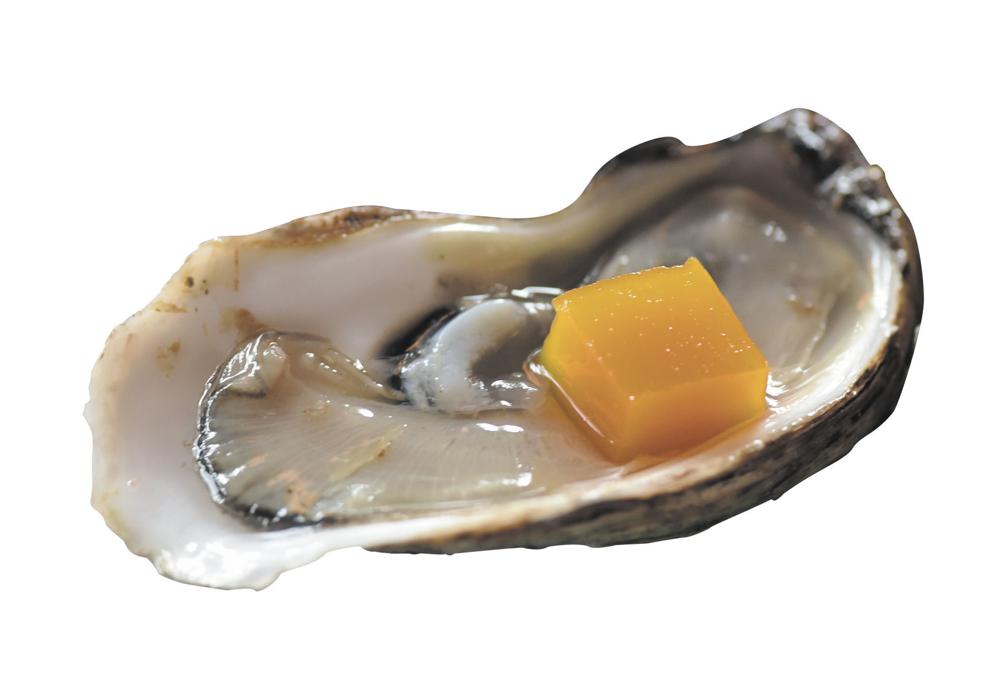 Oysters on the Half Shell
Oysters served at Georgia Sea Grill are sourced from multiple locations, and served on a rotating basis, just as the mignonettes that adorn them are. Mignonette is a sauce that in French refers to black pepper, but at Georgia Sea Grill, is usually served in gelée form and in a variety of flavors. On a recent day, the mignonette was passion fruit jalapeño gelée, which provides a sweet-spicy flavor profile, and a great contrast for the salinity of the oysters. Lensch, for one, is "obsessed" with the salty shellfish.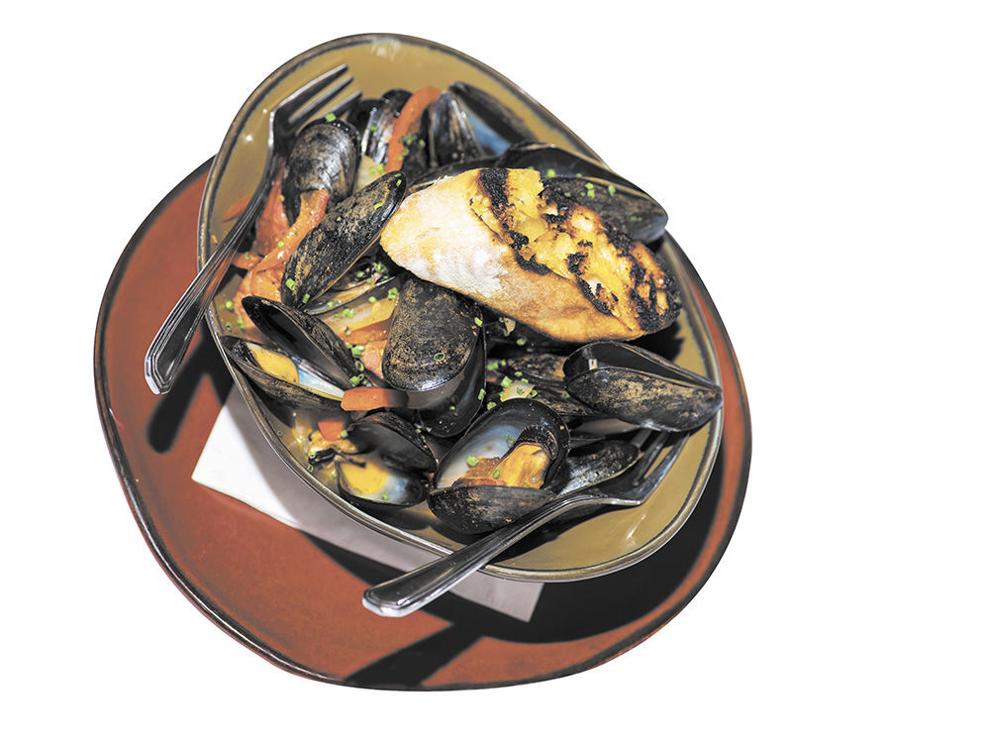 PEI Mussels (serves 2)
• ¼ lb. Andouille sausage
• ¼ cup each julienned onions and peppers
• 2 Tbsp. Old Bay Seasoning
• ¼ cup white wine
• 1 Tbsp. butter
Sauté Andouille sausage on the stove top, and then add onions and peppers, sweating them until tender. Add Old Bay Seasoning, white wine and butter and let it cook down before adding mussels. Add mussels and cook until they open. Serve with toasted or grilled bread and garnish with chives.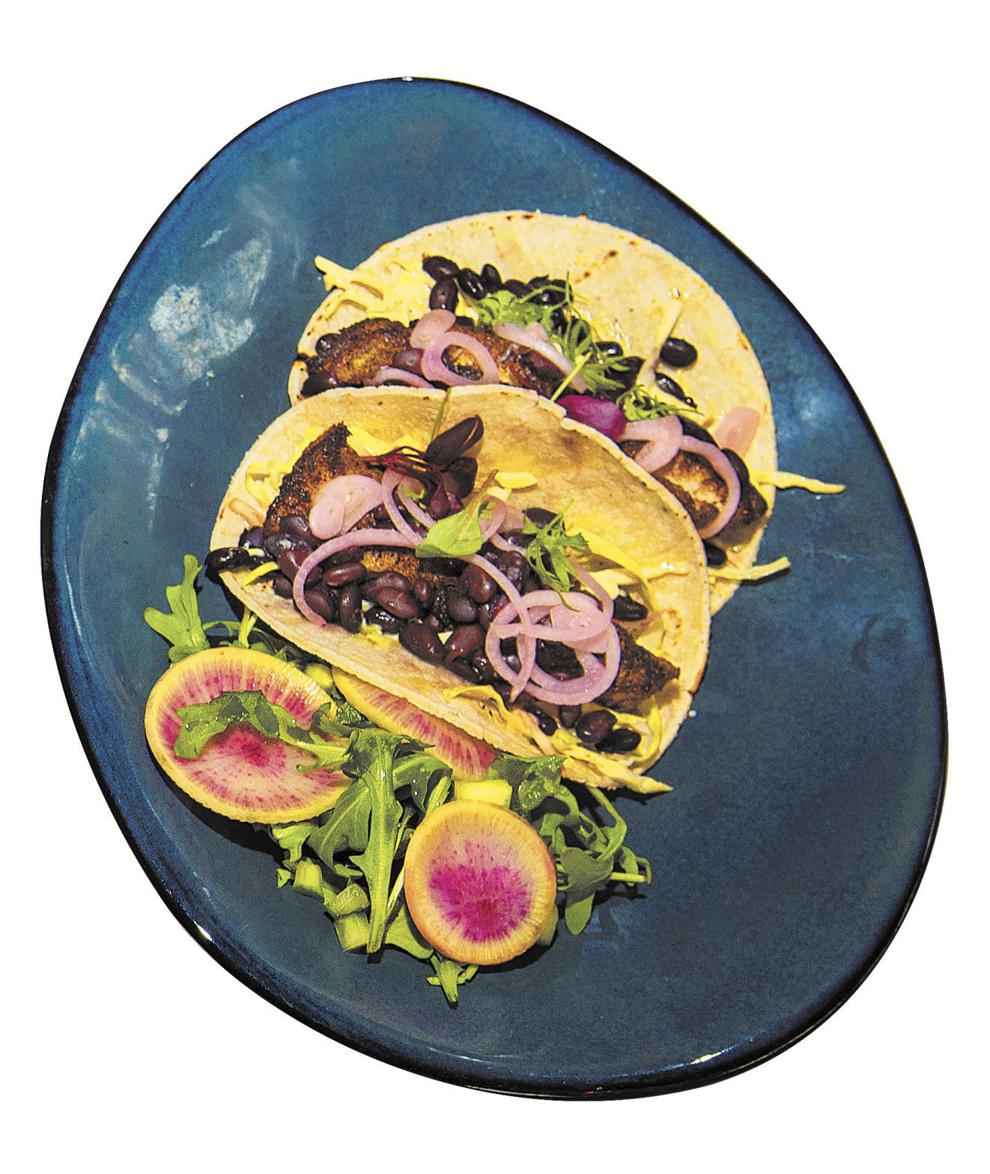 Blackened Satilla Ponds Catfish Tacos
Catfish filets:
• 2 Serrano peppers, chopped
• Handful of cilantro
• ¼ cup red wine vinegar
• 1 Tbsp. honey
• ½ tsp. cumin
• 2-3 c. mayonnaise
• Shredded cabbage and carrots
(cole slaw mix)
• Sliced shallot
• Sprinkle of salt
• Fresh-squeezed lime juice
Warm soft corn tortillas
Cook catfish on stovetop and season with blackening spice.
Cook black beans in sauce pan, seasoning them with salt, a bay leaf and Crystal Hot Sauce to taste.
Warm tortillas in oven.
Mix the Serrano peppers and cilantro together, using a blender. Add red wine vinegar, honey and cumin and blend until fully incorporated.
Place cabbage and carrots in bowl. Add mayonnaise and mix by hand. Add dressing from blender and continue mixing.
Top slaw with sliced shallot, salt, and fresh squeezed lime juice and let sit for an hour.
Assemble tacos by adding fish, beans and slaw to warm soft corn tortilla shells.
Zack Gowen has several other ventures, all of which complement his primary business at Georgia Sea Grill.
Three Little Birds is the catering arm of Georgia Sea Grill, and will help plan events from start to finish. Customers have their choice of venues, including the private dining room at Georgia Sea Grill, or the assorted vistas at Village Creek Landing. Coming soon: The Three Little Birds food truck.
Situated on Blythe Island, and founded in 2018, Potlikker Farm supplies Georgia Sea Grill with local produce, including herbs, vegetables and honey.
Exploring yet another avenue of farming, Gowen opened Satilla Ponds, in White Oak, which combines modern aquaculture technology with "old-world, sustainable farming traditions." Satilla Ponds raises organically fed catfish.
Perched on a peninsula where South Harrington Road meets Village Creek, Village Creek Landing is a venue for an array of events, from corporate trainings to weddings, concerts and parties.