Having a summer without music is unimaginable. So much a part everyone's memory bank is tied inextricably to the soundtrack of the summer months. Whether it's lying out on the beach or by the pool with the rock 'n' roll blaring, sipping a beverage on the porch with the sounds of soul on the radio or slow dancing with your sweetheart to the mellow sounds of a great love song, music underscores our lives. With that being said, we reached out to some of our good friends and top local influencers for their summer playlists. As a bonus, Cheri Leavy has put together playlists of all the songs on Spotify that you can download and add to your own summer playlists. Enjoy!
Stacy Gowen - Village Creek Landing
Stacy Gowen grew up in the Golden Isles and is a member of the family that owns and operates Village Creek Landing, a private event venue on a peninsula overlooking the marsh, on St. Simons Island. "We recently had Drivin' N Cryin' come out and it was a blast," Gowen said. "People were excited and happy to see the band and just to be together outside enjoying live music on the marsh. My sister-in-law, Lesli McQuigg, has some great ideas for public events. We usually have a local food truck come out. These events are always a lot of fun!"
"I love all kinds of music, although I have always loved songs that tell stories and songs that remind me of my younger days," said Gowen. "I am completely addicted to Spotify radio playlists. Plug in the name of an artist or band you enjoy, and Spotify has great lists without having to search out songs you may like. My Spotify 'radio' go-tos are Tom Petty, Fleetwood Mac, John Prine, Bonnie Raitt, Jackson Browne, The Rolling Stones, Allman Brothers Band and Indigo Girls.
"If I have to choose my favorite genre, I tend to listen to Americana/Bluegrass/Southern Rock/Country," Gowen adds. "I've been lucky enough to go to the Telluride Bluegrass Festival twice and hope to make it out there again someday. I love the different instruments like the violin, banjo, harmonica, mandolin and piano. People amaze me with their musical talents! For road trippin', I love to listen to old school rock like Led Zeppelin and AC/DC. For cooking and piddling around the house, I tend to listen to a lot of country music. Chris Stapleton makes me want to pour a glass of wine, cook a nice meal and maybe fold some laundry."
STACY'S SUMMER PLAYLIST
Soulshine - Gov't Mule
Willin' - Little Feat ("Got on stage with them back in the day.")
Lochloosa - JJ Grey and Mofro
Old Ties and Companions - Mandolin Orange
Ain't Life Grand - Widespread Panic
Wildflowers - Tom Petty ("The Wailin' Jennys also has a beautiful cover.")
Good Lord Lorrie - Turnpike Troubadours
Can't Let Go - Lucinda Williams
Running on Empty - Jackson Browne
Blue Sky - Allman Brothers Band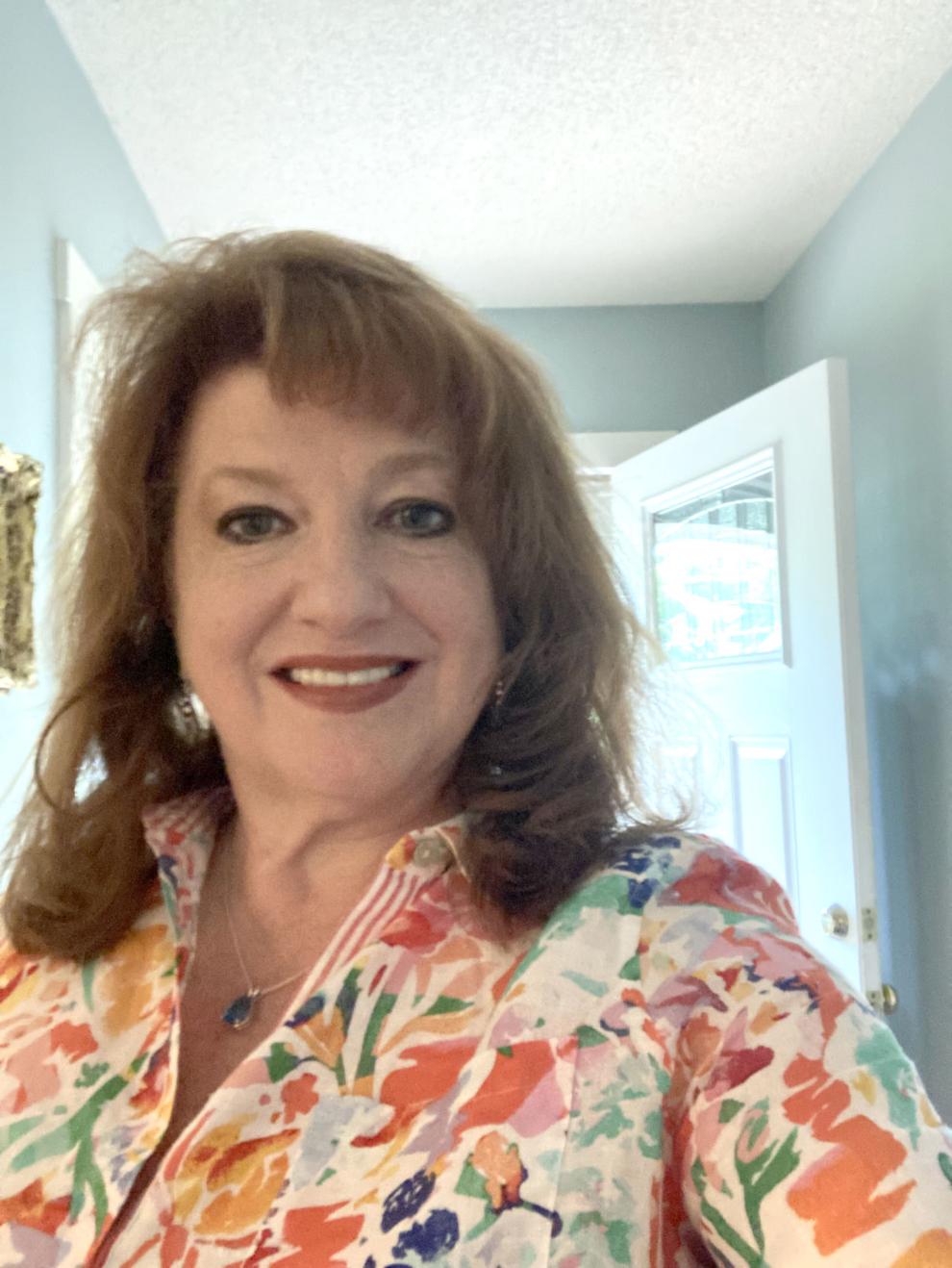 Rhonda Hambright - St. Simons Presbyterian Church
Rhonda Hambright has lived in the Golden Isles since the summer of 1983. Always involved in the community music scene, she said, "I pretty much worked for churches also for most of my life."
"I began full-time music ministry at St. Simons Presbyterian Church in 2008 after the death of their music director, Glenn Pride. Time has flown by and it just doesn't seem that long ago. I am enjoying our newly renovated space and look forward to sharing concerts with the public as well as music each week during services. Bluegrass Sunday is coming up soon on August 8 – don't miss it!"
Beethoven's 9th Symphony final movement - Beethoven
All - Elton John
All - Billy Joel
Angry Young Man - Styx
Don't Stop Believin' - Journey
The Planets - Holst
When We Stand Together - Nickelback
Old Time Religion/Give Me Oil in My Lamp - Nashville Bluegrass Ensemble
Album - The Royal Scots Dragoon Guards
American Dreams Album - American Brass Band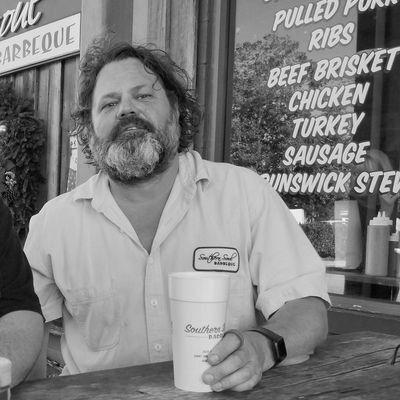 Griffin Bufkin - Southern Soul Barbeque
Griffin Bufkin created a roll-down-the-windows vintage and modern Soul, Ska, Reggae and R&B playlist. "I have been a giant soul music fan since I can remember digging through my mom's and my aunt's record crates growing up on St. Simons Island," said Griffin. "I discovered Jamaican Soul, Ska, and Reggae while away at school where I would voluntarily man the midnight-overnight shift at the college radio station, WVGS, making mix-tapes for the summer on the island. I dropped out of art school and started a band – booking hustle at Danny's then Rafters where in between band breaks, I would DJ (very loudly) sets of rare and classic Southern and Northern Soul, Motown and Stax, Funk, and R&B. I have all of these recordings listed on wax, many first-edition, in my personal collection and if I'm entertaining at the house, everyone knows to expect an impromptu dance party to erupt at any time."
GRIFFIN'S SUMMER PLAYLIST
You Put The Flame On It - Charles Bradley
No, No, No - Dawn Penn
Me and Mr. Jones - Amy Winehouse
Soul Ska - Ken Lazarus & The Dragonairs
Be Thankful For What You Got - William Devaughn
Baby Come Back - The Equals
Nobody's Baby - Sharon Jones & The Dap-Kings
What Does It Take (To Win Your Love) - Alton Ellis
Give Me Just A Little More Time - The Foundations
I Can't Help Myself (Sugar Pie Honey Bunch) - Four Tops
Build Me Up Buttercup (Mono Version) - The Foundations
Khruangbin- Pelota (Cut A Rug Mix)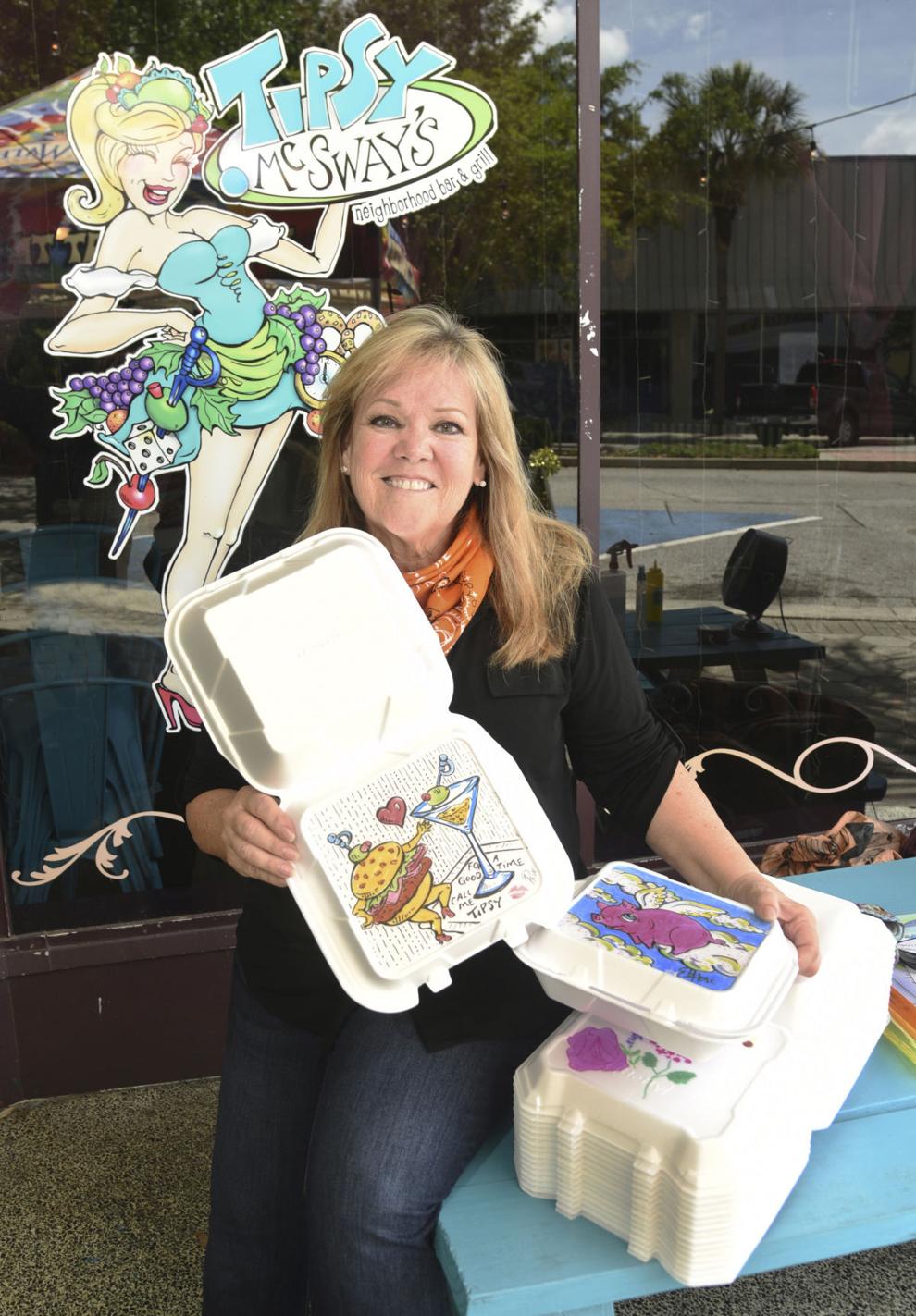 Susan Bates - Tipsy McSway's Neighborhood Bar + Grill
Susan Bates has worked with Camden and Glynn County communities over the past 31 years. She started volunteering in 1990 with the concert portion of Labor Day Catfish Festival in Kingsland to bring in notable acts like Trace Adkins and Jerry Reed. "I was fortunate enough to have community events be my responsibility when working with Southeast Georgia Health System," she noted. "Under the direction of our CEO, Gary Colberg, we brought in Sawyer Brown, The B52s, Spin Doctors, Neville Brothers, Blues Traveler, and KC & the Sunshine Band to the Brunswick Rockin' Stewbilee! My volunteer work also includes the RSM Classic Concert Series green room and personal services for the very best entertainers in country music."
"When I left the health system to open Tipsy's Neighborhood Bar & Grill, I knew I wanted to include live music as part of our identity," said Bates. "Over the past nine years Tipsy's has hosted more that 1,600 live music acts that have included Grammy Award winners and musicians from around the world. The live music and restaurant worlds took a beating from COVID. However, a positive spin-off from all the social distancing has been the creation of the Brunswick Music District. Live music can be found every Friday and Saturday nights in one of the outdoor Signature Squares in Historic Downtown Brunswick. Music is a big part of my life. I can't imagine a day without a tune."
SUSAN'S SUMMER PLAYLIST
Soulshine - Gov't Mule
Jolene - Dolly Parton
Whipping Post - The Allman Brothers Band
Hollaback Girl - Gwen Stefani
Darling Nicky - Prince
Hot Fun in the Summertime - Sly & The Family Stone
Blister in the Sun - Violent Femmes
Suddenly Last Summer - The Motels
Love Shack - The B52s
Miserlou - Dick Dale
Under the Boardwalk - The Drifters
Son of a Preacherman - Dusty Springfield
Telling Me Lies - Trio (Emmy Lou Harris/Dolly Parton/Linda Ronstadt) "There needed to be a break-up song in the group!"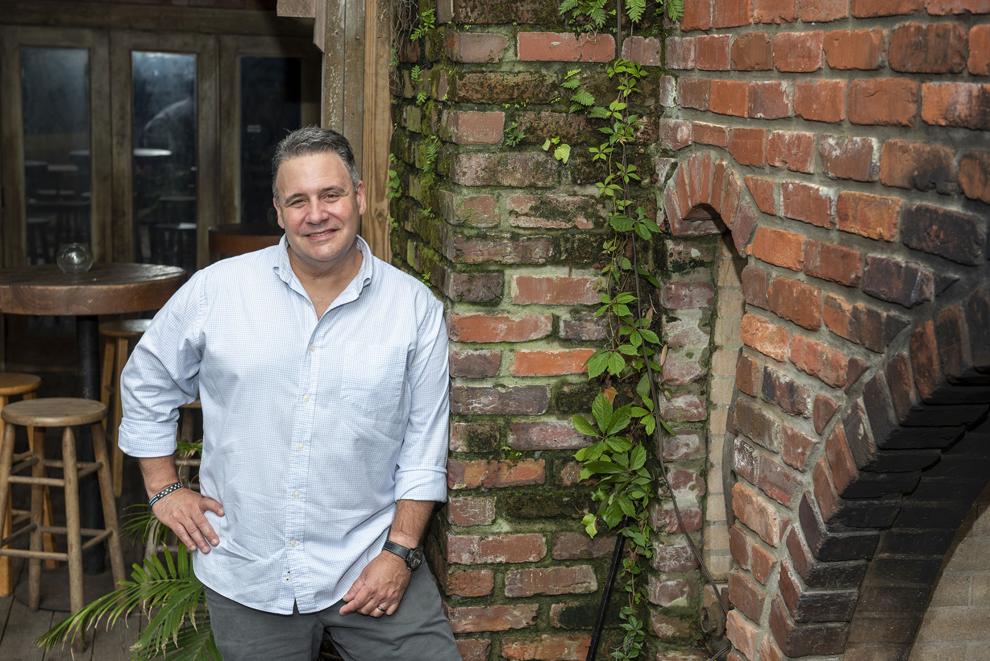 Chris Paolini - The TreeBar at Bennie's Red Barn
As manager at The TreeBar at Bennie's Red Barn, Chris has front-row seats to some of the area's most popular bands, most of which play late 20th century pop and rock with some country and Southern mixed in for good measure. He's consistent when it comes to his summer music mix. Chris is a fan of classic rock and pop, and the proof is in the playlist.
CHRIS' SUMMER PLAYLIST
Patience – Guns 'n Roses
Somebody to Love – Queen
Home by the Sea – Genesis
All Summer Long – Kid Rock
I've Seen All Good People – Yes
Meet Virginia – Train
Hey Jealousy – Gin Blossoms
Last Dance – Donna Summer
Candy-O – The Cars
Carolina in My Mind – James Taylor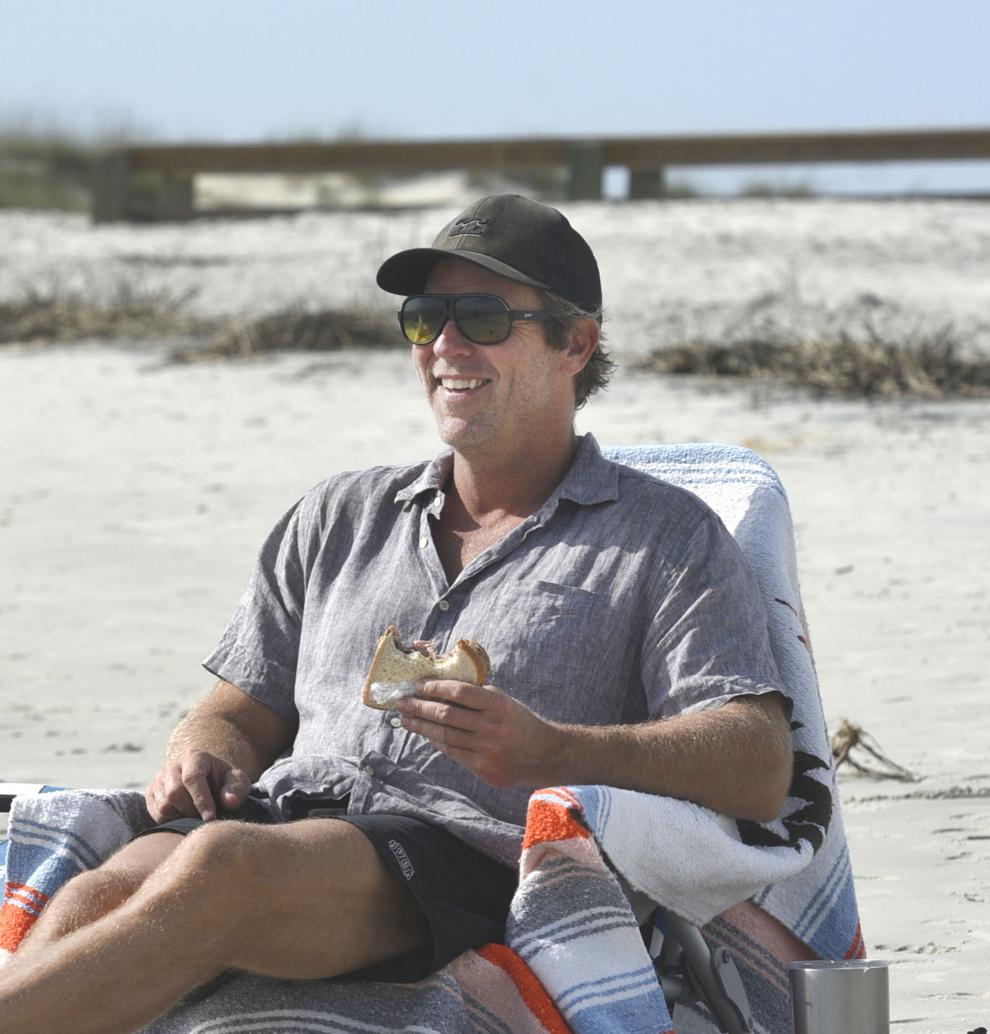 Wilmot Greene - Sammies
Wilmot Greene holds a decade in the history of the Georgia Theatre, the legendary music venue in Athens. He bought it in 2004 and helped it rise from the ashes after it burned in 2009 til he sold it in 2014. When he is not running his sandwich shop, Sammies, in Redfern Village, he is playing or listening to live music. "I've been into music as long as I can remember," said Greene. "I wore out the 8-track to 'Lil Orphan Annie' in grade school. Then I got into Dylan, which led to the Beatles and that just opened the door for all that followed. I've gone through everything from the acid jazz phase to outlaw country and everything in between. Neuroscience says nothing fires up the brain like music … that sure feels right to me!"
WILMOT'S SUMMER PLAYLIST
Time Out of Mind – Steely Dan
Bye Bye Love – The Cars
Summer – Skinshape
Summer Breeze – Seals and Crofts
The Boys of Summer – Don Henley
Southern Nights – Glen Campbell
Arc of a Diver – Steve Winwood
Arrow Through Me – Paul McCartney
Pink Moon – Nick Drake
Poetry Man – Phoebe Snow
LIVE MUSIC
Live music is back in full swing in the Golden Isles, and although some places may be doing things a bit differently these days, there are still a ton of opportunities to go see your favorite local band or artist in public parks and top-notch nightspots around the area. If you have your heart set on listening to a specific artist or band, check with the venue before you head out – sometimes cancellations occur due to unforeseen circumstances. We've given you an assortment of venues and acts to get you started. Happy listening.
OUTDOOR SHOWS
The Brunswick Music District is sponsored by downtown Brunswick merchants. Live music is played from 6-9 p.m. in various Signature Squares in downtown Brunswick. Susan Bates, owner of Tipsy McSway's sponsors the music in Jekyll Square, where everyone can enjoy the artists listed below.
July 17 – Suzy and the Bird Dogs
July 23 – Lloyd Carter Band
July 24 – Pier Pressure
July 30 - Jeff Szwast
July 31 – Tie-Dyed Sunset
Aug. 6 – The Page Brothers and Blood, Sweat + Whiskey
Aug. 7 – Zulu Prophet
Aug. 13 – Pine Box Dwellers
Aug. 20 – Saltwater Gypseas
Aug. 21 – Touch of Gray
Aug. 27 – Pier Pressure
Aug. 28 – Jeremy Riddle
Sept. 3 – Pine Box Dwellers and Zulu Prophet
Sept. 4 – Saltwater Gypseas and Taste Buds
Sept. 10 – Squirt Gun
Sept. 11 – The Page Brothers
Sounds by the Sea is sponsored by Golden Isles Arts & Humanities. All concerts are from 7-9 p.m. in Neptune Park. Attendees should bring a blanket or chair to sit on, and picnic suppers are welcome. Admission is $12 for adults, $5 for children ages 6-12 and free for children younger than 6. Patrons are encouraged to purchase tickets in advance by calling (912) 262-6934 or visiting www.goldenislesarts.org.
July 25 – The Second Chance Band | Aug. 22 – Michaele and the Ambiguous | Sept. 19 – Backbeat Boulevard
Little Light Music, sponsored by the Coastal Georgia Historical Society Concerts are held from 7-9 p.m. on the grounds of the St. Simons Lighthouse. Picnic suppers, lawn chairs and blankets are welcome. Tickets are available in advance at the St. Simons Lighthouse Museum Store in advance at the gate on the date of the show, and are $15 for adults; children younger than 12 and Keepers of the Light are admitted free. Pre-purchase of tickets is encouraged. Details and to purchase tickets: coastalgeorgiahistory.org.
Sept. 5 – Sensational Sounds of Motown
OUTDOOR FESTIVAL
Nov. 14 – PorchFest will be held from noon to 5 p.m. on porches and in parks throughout the Brunswick Historic District. Attendees are welcome to stroll through the neighborhood and enjoy the array of performances. Food and drink vendors will be available. Free, but please support PorchFest through the purchase of swag. For more details visit:hbrunswicknpa.org/porch-fest.
Bars, restaurants, nightclubs etc., where live music is front and center on most weekend afternoons and evenings.
LIVE MUSIC VENUES
These Bars, restaurants, nightclubs etc., have live music front and center on most weekend afternoons and evenings..
St. Simons Island
Bubba Garcia's, 200 Redfern Village
Catch 228, 228 Redfern Village
ECHO at the King and Prince, 101 Downing St.
Ember/MAS, 70 Retreat Village
Gnat's Landing, 310 Redfern Village
Golden Isles Olive Oil, 306 Redfern Village
Murphy's Tavern, 415 Mallery St.
Sago at Sea Palms, 515 N. Windward Dr.
Sal's Neighborhood Pizzeria, 3415 Frederica Rd.
The TreeBar at Bennie's Red Barn, 5514 Frederica Rd.
V Pizza, 600 Sea Island Rd., in the Shops at Sea Island
Village Inn & Pub, 500 Mallery St.
Wine, Body & Soul, 208 Redfern Village
Ziggy's, 206 Retreat Village
Jekyll Island
Tortuga Jack's, 201 N. Beachview Dr.
Tribuzio's Grill, Jekyll Island Golf Club, 322 Captain Wylly Rd.
Wee Pub Beach, 20 Main St., Beach Village
Westin, 110 Ocean Way, Beach Village
Brunswick
Silver Bluff Brewing, 1325 Newcastle St.
The Blue Door, 1706 2nd St.
The Boom Boom Room at Southern Table, 1423 Newcastle St.
The Study at Reid's Apothecary, 1618 Newcastle St.
Call 912-289-2659 between 1 and 4 p.m. daily for the password to the speakeasy.
Tipsy McSway's Neighborhood Bar & Grill, 1414 Newcastle St.
We've also put together a sampling of popular musicians and bands. Remember, some musicians play in more than one band, so you may find your favorites in unexpected places!