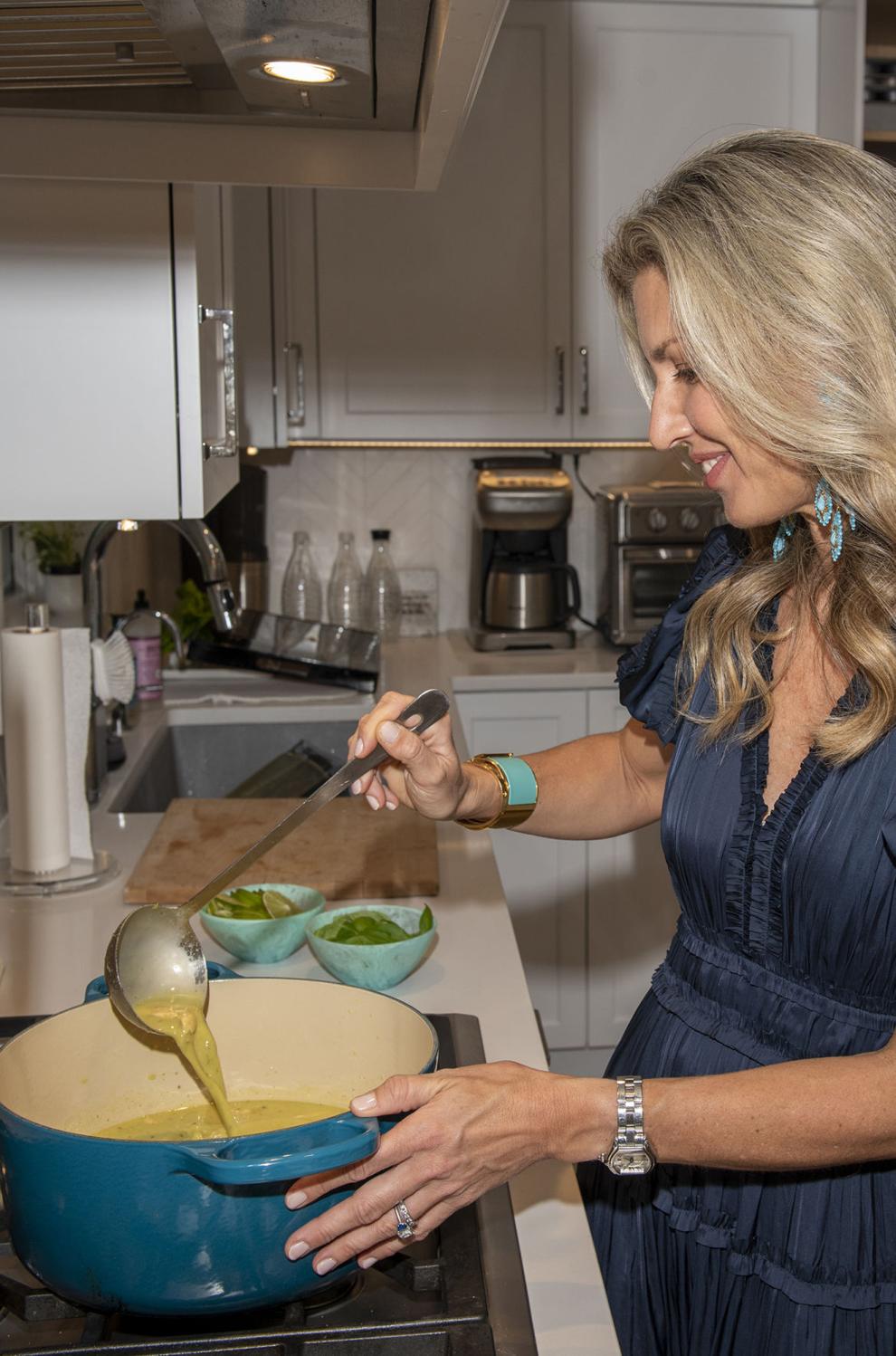 Perhaps the most universally loved comfort food is soup. No other dish is quite so versatile, and few dishes can be as fancy, or as informal, as a bowl of soup. From the cool, creamy richness of a vichyssoise served in the finest of china at the ritziest tables in the world, to the satisfying savory flavors of a big bowl of soup beans and ham eaten in a cozy home kitchen, nothing compares.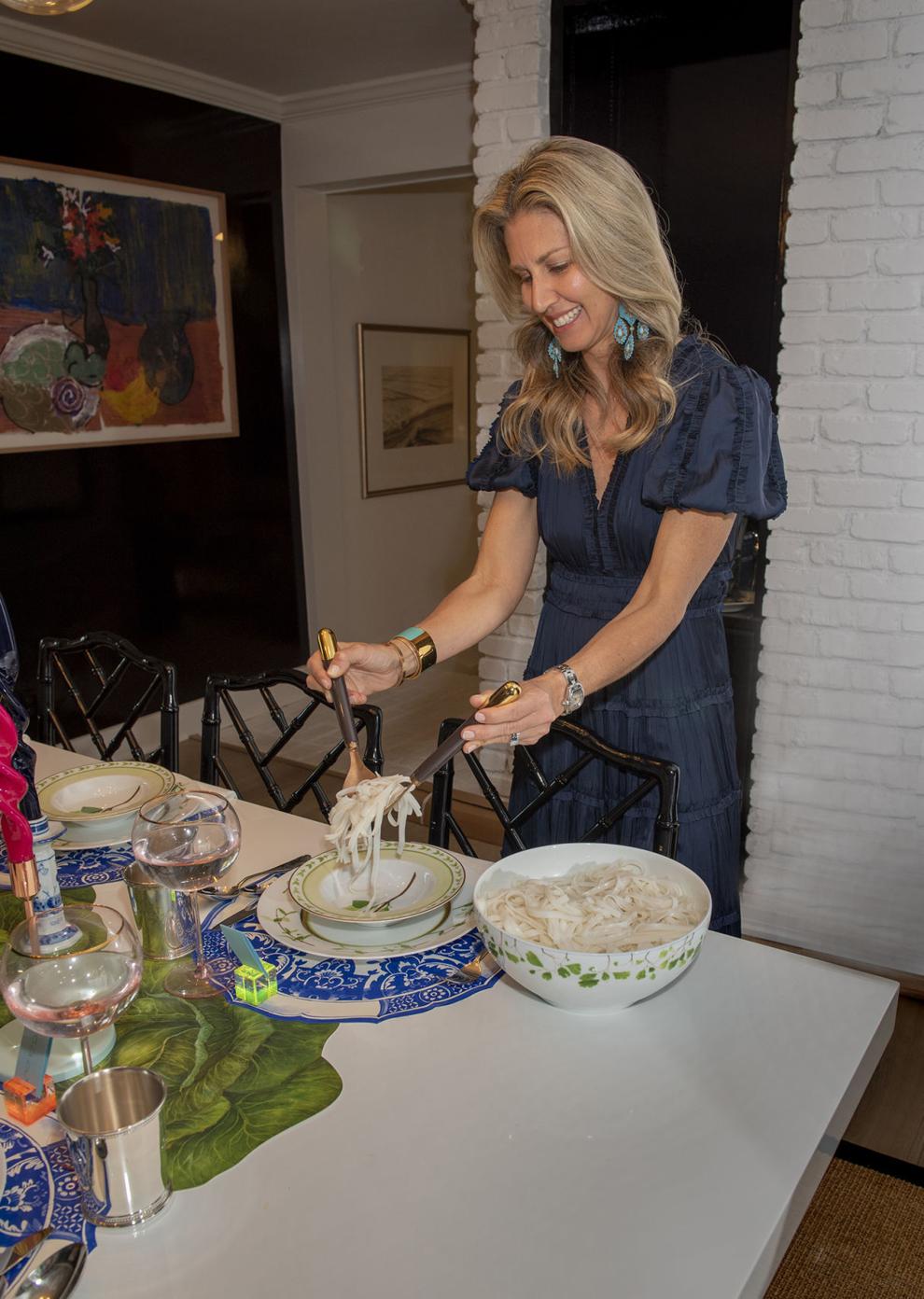 When you consider it, soup is a magical thing. A simple combination of water, vegetables and time lays the foundation for an infinite number of flavor and texture profiles.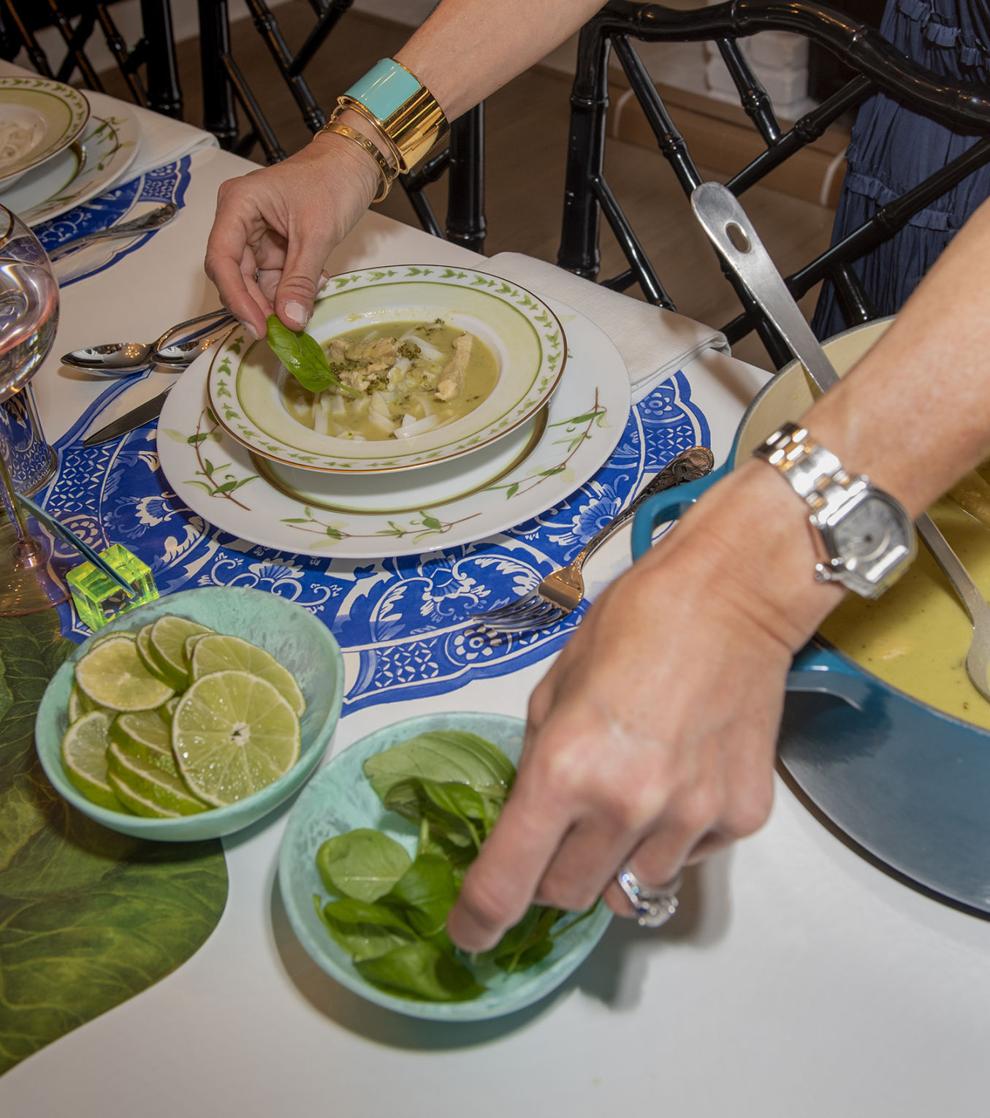 The secret to soup is layering. First combine the aromatics and vegetables, add the liquid, then the main ingredients and top with a garnish. Voila! Soup. It's like a bowlful of hugs.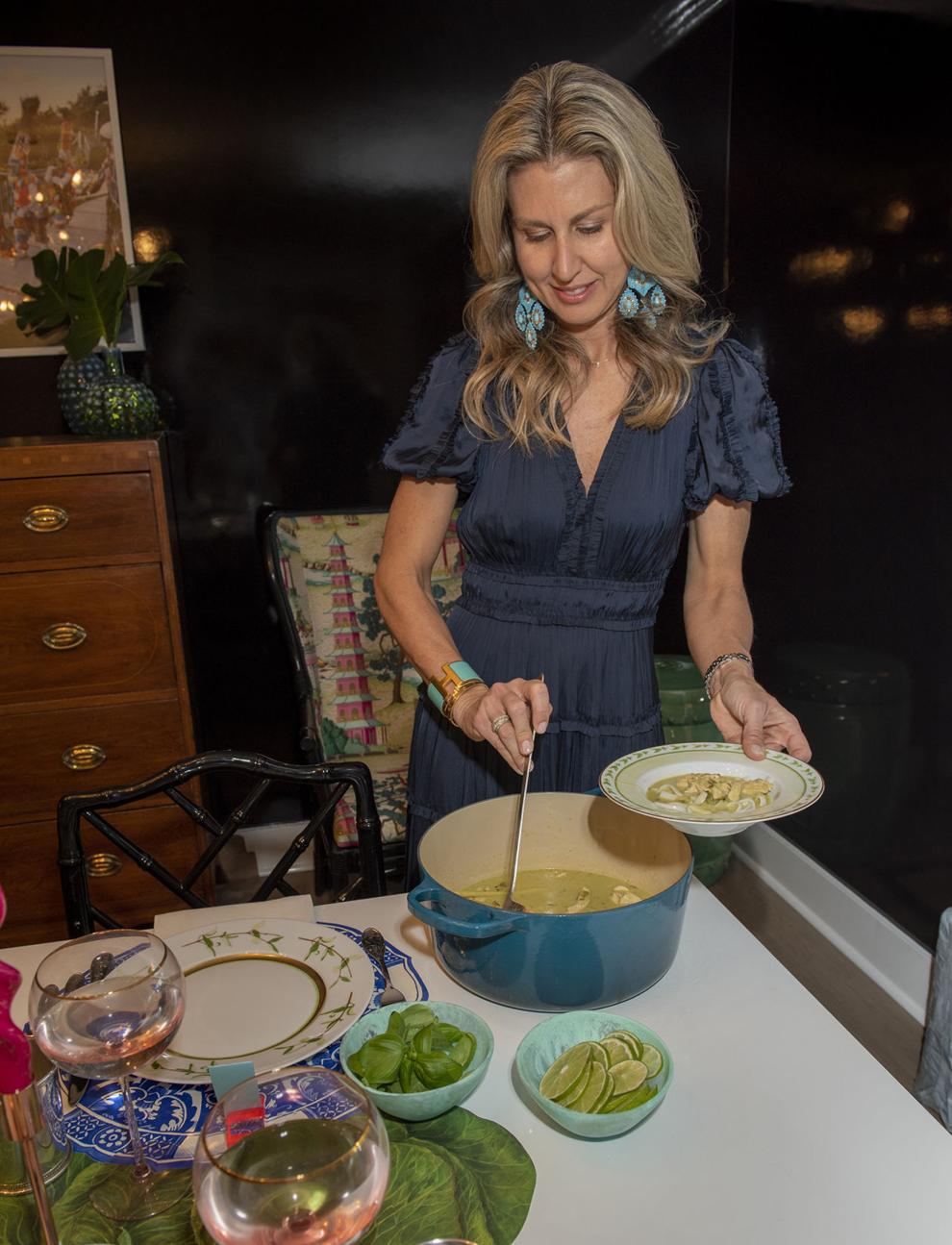 Just in time for the Super Bowl, scheduled to be played Feb. 7 between the Kansas City Chiefs and Tampa Bay Buccaneers, at Raymond James Stadium, in Tampa, we spoke with three local residents who have very special soup recipes, that are easy enough for everyone to prepare at home.
Molly Middleton's family recently moved to the Golden Isles from New York, and although their beloved nanny, Bea, remained behind, some of her recipes did not.
Bea, a native of Thailand, used to make green chicken curry noodle soup for Middleton's family all the time.
"It was our favorite thing she made," Middleton said of the family's nanny, who had been with them for eight years.
Middleton, an event planner by profession, touts the meal's ease of preparation, and says it's especially ideal for busy families.
One ingredient that may be unfamiliar to some people is green curry paste, but it is readily available in the international sections of grocery stores and in Asian markets.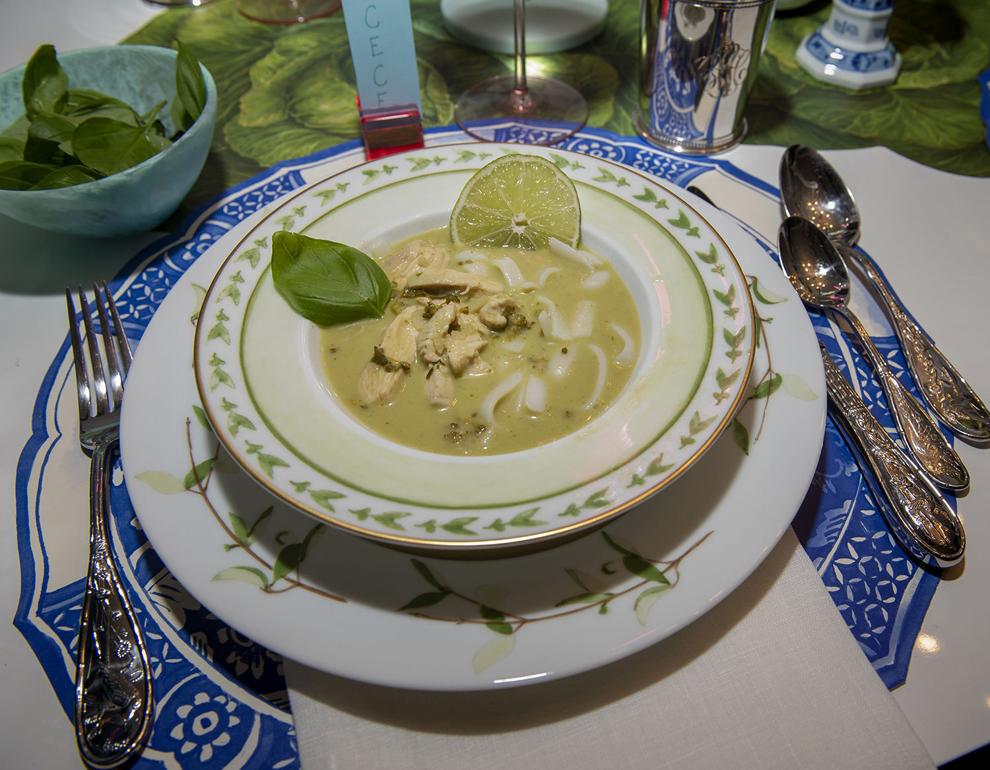 Bea's Green Chicken Curry Noodle Soup
• 3 Tbsp. vegetable oil
• 2 Tbsp. green curry paste
• 1 lb. chicken
• 1 can coconut milk
• 2 Tbsp. fish sauce
• 1 Tbsp. sugar
• 2 bell peppers (red or orange), chopped
• 1 zucchini, chopped
• 1 carrot, chopped
• 1 pkg. rice noodles
• 3 cups vegetable broth
• basil leaves
• Heat the oil in wok over low-medium heat, and add the curry paste. Stir-fry for about 2 minutes until sizzling and fragrant.
• Add the chicken and cook for two minutes.
• Pour in half the coconut milk, stir well, then increase the heat to medium and cook for 2-3 minutes. Add can of vegetable broth.
• Add fish sauce, sugar and stir again.
• Add carrot, bell peppers and zucchini; let them cook around 10 minutes, then taste.
• Add basil leaves and stir for 30 seconds.
• In the meantime, prepare rice noodles according to package directions.
• Divide rice noodles into individual bowls, top with soup.
Chances are, if you're invited to a game day celebration at the Worthy household, Henry Worthy will serve up some of his legendary Mexican green chili, which is the result of a lot of research and experimentation.
"I came up with the recipe after ordering several non-traditional and non-tomato-based chilis throughout my travels to Florida, South Carolina, and Georgia," Worthy said. "I made mental notes of the flavor profiles I liked that were unique. I then started experimenting in the kitchen until it was perfected."
Worthy has been making his chili for at least 15 years, and the recipe was published in Let the Big Dog Eat … Again! A Collection of Bulldog Tailgating Recipes, by Loran and Myrna Smith.
"We usually prepare this chili for Georgia football weekends or tailgates in Athens," he said.
Henry's Mexican
Green Chili
• 1-1/2 lbs. ground beef
• 1-1/2 lbs. ground pork
• 3 cloves garlic, minced
• 4 Anaheim peppers, chopped
• 2 bell peppers, chopped
• 5 c. whole kernel corn, fresh
• 6 c. chicken stock
• 12 tomatillos, chopped
• 1 Tbsp. Mexican oregano
• 2 Tbsp. chili powder
• 1 Tbsp. cumin
• 1 Tbsp. paprika
• 1 c. fresh cilantro, chopped
• 4 – 4 oz. cans green chiles, chopped
• 3 c. onion, chopped
• 2 – 28 oz. cans green enchilada sauce (Las Palmas is best)
• Brown ground beef and pork in onion, garlic, Anaheim peppers and bell peppers.
• Salt and pepper meat mixture. Drain when meat is browned. Add remaining ingredients to drained ground meat mixture and simmer for several hours on low heat, allowing it to thicken up gradually. Season with salt and pepper to taste, and adjust heat if necessary. Garnish with corn tortillas, sour cream and cilantro.
Once a legendary restaurant on St. Simons Island, Alfonza's Old Plantation Supper Club. Known for its traditional Southern food, singing waitstaff and gracious hospitality, Alfonza's closed its doors nearly 20 years ago. Thankfully, some of Alfonza's traditions have lived on, primarily through its former servers, like Chip Wilson, who can now be found at Bennie's Red Barn, often serenading diners with his booming baritone voice, or entertaining children with magic tricks.
Wilson has an encyclopedic knowledge of the island, and particularly the Harrington community. When he came to Bennie's Red Barn, he, and other former employees of Alfonza's brought with them some of the recipes from the iconic supper club. One of them, Seafood Alfonza, is known for its flexibility.
"You can adapt this to any size crowd, and use whatever seafood you want – shrimp, scallops or oysters," said Wilson.
It can be served as a soup, or if a more scampi-like dish is desired, it can be ladled over pasta.
Seafood Alfonza
• 1 lb. shrimp (peeled and deveined), scallops or oysters
• 2 Tbsp. butter
• White cooking sherry or dry white wine
• 2 Tbsp. lemon juice
• 1 Tbsp. minced garlic
• Salt and pepper to taste
• 2 Tbsp. Worcestershire sauce
• Sauté shrimp in butter, until it's pink. Remove from heat.
• In a saucepan, combine the remaining ingredients and to that, add the shrimp. Cook until heated through, and spoon into individual bowls.
• Delicious served with crusty bread for soppin'.
Sidebar
We made the rounds on St. Simons Island, and picked some of our favorite soups from local eateries:
Crabdaddy's Seafood Grill has a crab soup that's practically legendary. This creamy dish, filled with crab and with a rich, buttery flavor, is hard to pass up, and people have been known to order seconds.
At Island Pho, the lemongrass chicken pho is all the rage. Tender chunks of chicken, scallions, lemongrass and rice noodles give an Asian flair to the old standby chicken noodle soup.
Southern Soul always has tomato soup and brisket chili on its menu, but its stock pot offerings, like lima bean and ham, which featured baby lima beans and bacon with creamed limas, cooked down in a rich ham broth with carrots, celery onion and garlic, and topped with croutons.
Georgia Sea Grill has a much-loved crab soup, served garnished with chives, and a soup-of-the-day option.