Everyone dealt with the pandemic lockdown in different ways, and many took the the time away from the "busy-ness" of life and discovered (or renewed) interest in a variety of pursuits from pickleball to painting. We talked with several area women about their newfound hobbies and how having something to occupy their spare time, however limited, was helpful, both physically and mentally.
During the pandemic, Rebecca Parmelee and three of her friends – Beth Williams, Lindsey Spearman and Casey Cate – decided to become reacquainted with golf, which they had all enjoyed as children. However, none of them had played much since.
"Once quarantine started, the golf course was one of the only places we could all socially get together at a safe distance, so it just sort of started to be our place to go," said Parmelee. "One we all started playing, we realized that we really enjoy the sport."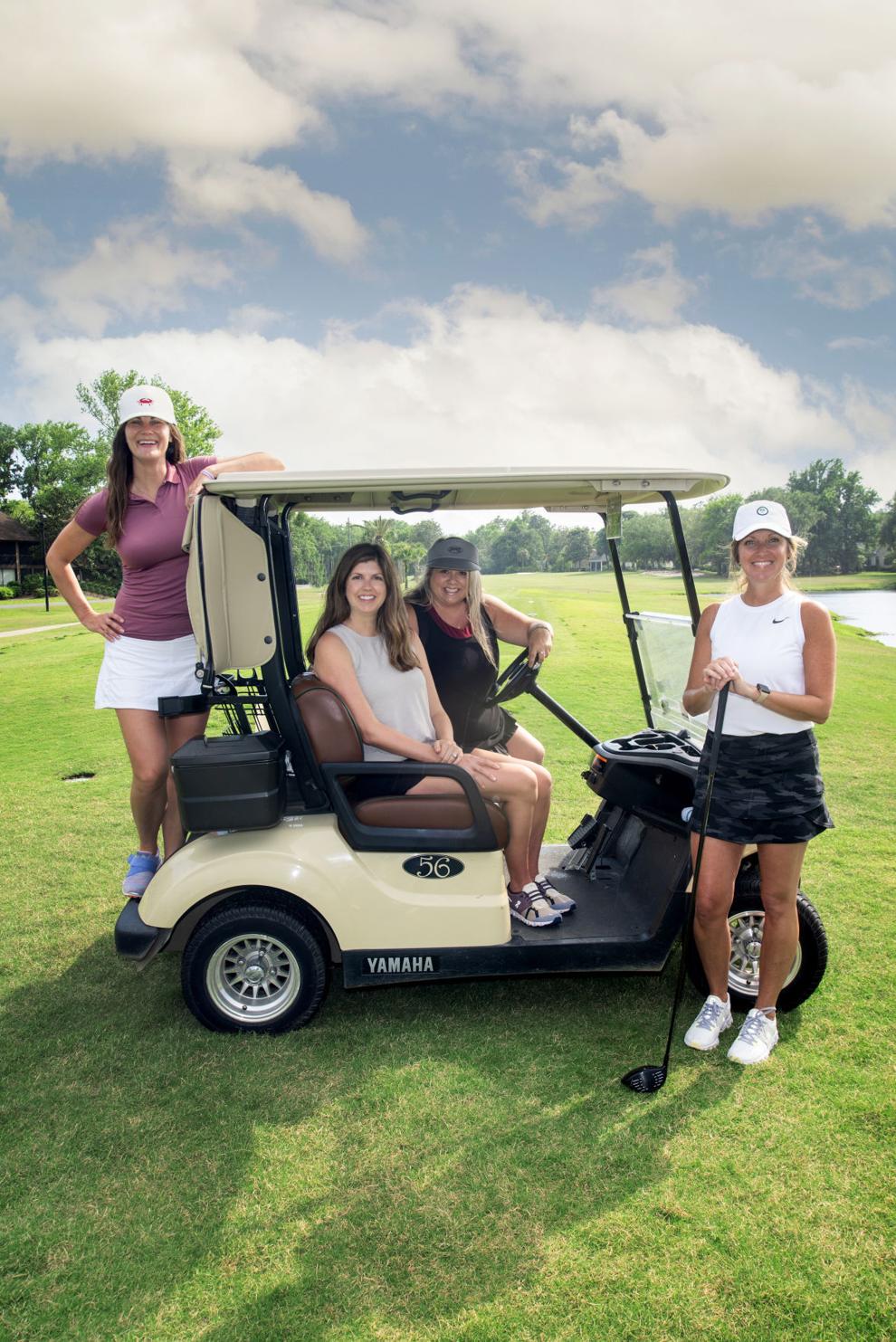 Golf has many benefits, but for this foursome, all of whom are professional women with children, it was a chance to disconnect for a couple of hours and hit the reset button.
"Being outside on this amazing island we live on and with your girlfriends laughing and cutting up is just good for the soul," she said.
While none of the group will be joining the LPGA anytime soon, Parmelee says with practice, improvement comes quickly.
"We are fortunate to have great golf instructors here as well who can teach you small tricks to improve your game," she explained. "We all like to play a scramble format because we are all better at different parts of the game. I would also say that we have learned a lot from each other along the way."
Parmelee says that for her, the best part of playing golf is having fun with her friends while getting outside and moving.
"I think we do more giggling than we do scorekeeping, but that is what makes it so fun," she said.
Even with the return to mostly normal routines, the group still plays once a month, and some play in Sea Palms couples tournaments, which are fun scrambles for any skill levels.
Golfing receives a high recommendation, she said.
"Golf can be great exercise," Parmelee said. "Many times Beth and I will take our clubs and walk nine holes and between that and the strokes, it is quite the workout."
Karen Knight and Kristi Kirkendall, both teachers at Oglethorpe Point Elementary School, on St. Simons Island, took up bicycling, mostly because the online classes they were teaching at the onset of the pandemic resulted in them being seated at their computers most of the day, rather than being up and active with their young students.
"We were not used to sitting in front of a computer all day long," said Kirkendall. "After being confined to it during the day and into the evening, this was a great way to unwind and get outside."
St. Simons Island is ideal for cycling, with its level terrain and plentiful multi-purpose paths. The two women averaged 13 miles a day. In the mornings, they would ride before starting school and get in about 8 miles. Then in the afternoons, they would ride another 5-6 miles.
Knight said both would recommend biking because it allows you to spend time with friends and family and enjoy the pristine scenery on the island.
"It also helps you release stress and get fit," she said. "Losing weight is an added bonus."
The two were careful to abide by the initial regulations, which requested people stay in their neighborhoods when they were outdoors.
"We stayed in our neighborhood by North and South Harrington, and rode daily through the shaded park (Harrington Park, on South Harrington Road)," said Kirkendall. "Sometimes, we would run into our students and wave as we passed them. That was a special treat for us as we missed seeing them."
Knight is an island native, and although she said she didn't discover any parts of the island that were previously unfamiliar to her, she did get a renewed appreciation for St. Simons Island.
"It did make me realize, once again, what a lucky person I am to live in such a beautiful, calming place," she said.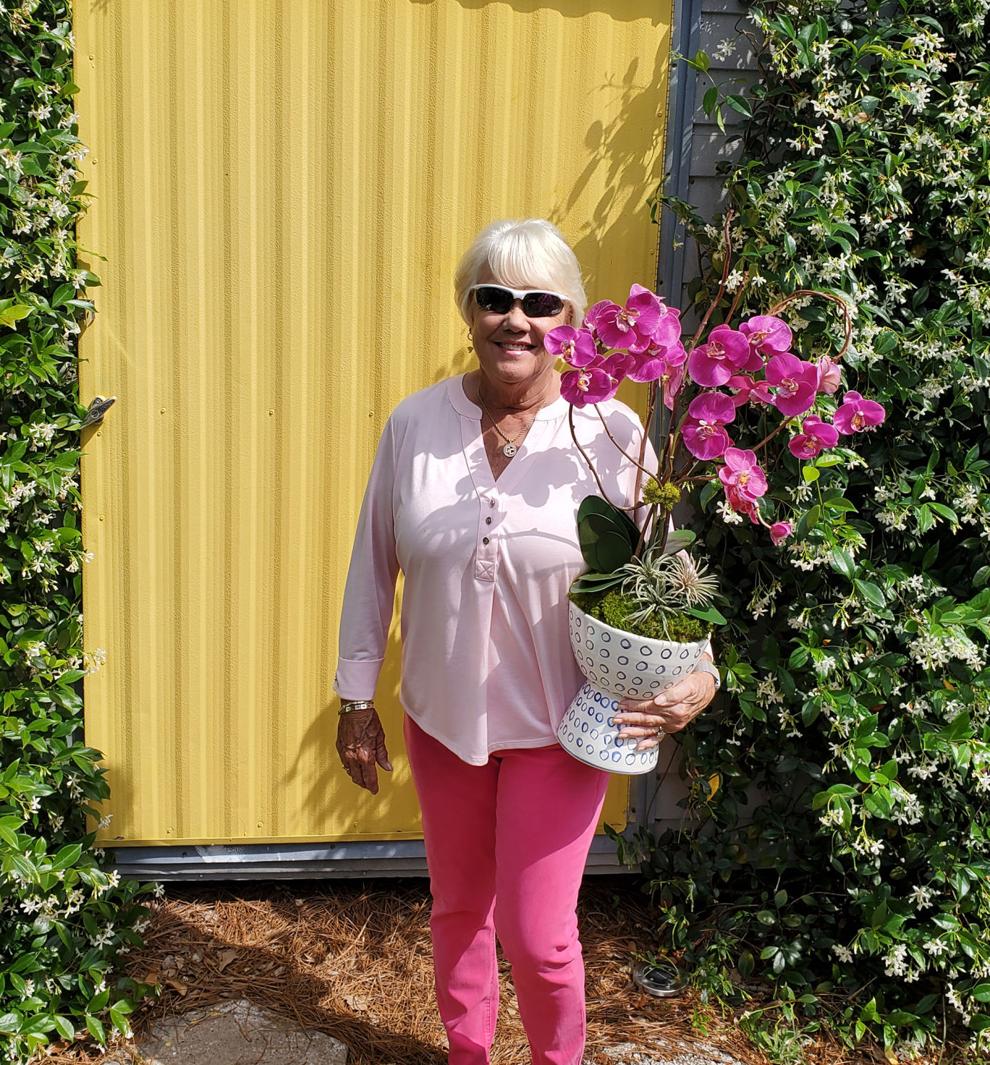 Many people find flower arranging a relaxing way to fuel their creativity and make something of beauty all at the same time. Gay Connolly, who retired from The Bailey Boys a year ago, and had prior experience in an upscale home and garden store, in Atlanta, started arranging flowers at home during the lockdown and before she knew it, her hobby had blossomed into a business.
Connolly explained that in communities where many residents are part-timers, artificial flower arrangement, particularly those that feature orchids, are popular.
She began selling her original arrangements in October 2020. Connolly's orchid arrangements look incredibly lifelike, and it's because of the components she uses.
"I use real sticks for the orchid stems and real mood moss for the base," she said. The orchids are also potted in eye-catching vases and pots for decorative impact.
In other words, this is not your grandmother's silk flower arrangement.
"You can't tell the difference," she said. "They're very life-like.
Her new business, She Shed Orchids, now occupies a brightly painted shed in her backyard.
"It was flooded and gutted," she said of the shed, which provides the finishing touch on her back yard sanctuary.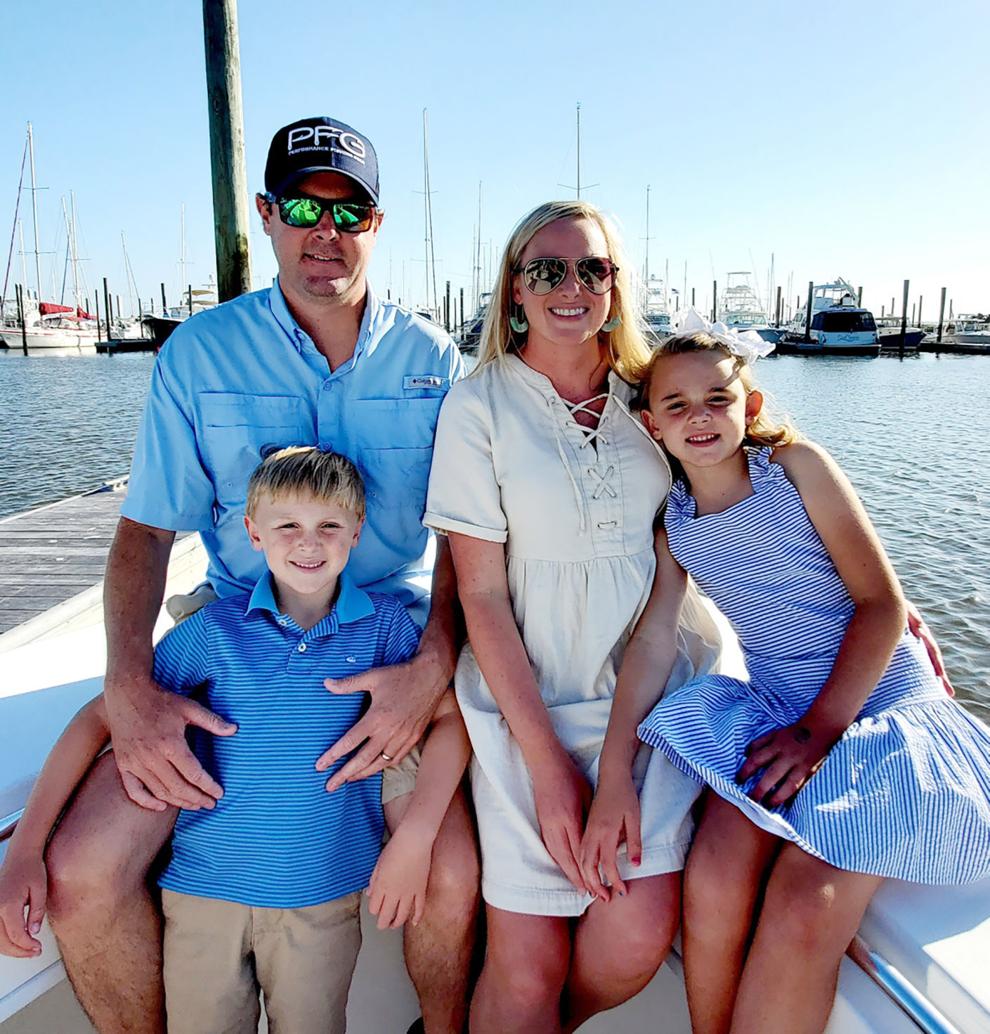 To avoid getting cabin fever during the lockdown, Catie Ballard and her family, including husband, Bill, and children Willow Cate, 7, and Mason, 6, took to the water.
The family has owned their boat for two and one-half years, and it all began with a fishing trip.
"Bill and Mason have always been interested in fishing," she said. "We went on a charter with Capt. Brooks Good, and fell in love with the water, and about a month later, we bought our own."
They've motored about the Golden Isles like most area boat-owners, but the Ballards have traveled farther afield than the typical day trip. And they don't just fish.
"Aside from fishing, we love meeting friends at Little St. Simons Island and Jekyll Island Beach," she said. "We also enjoy going to restaurants on the boat. During quarantine, we took a boat trip to St. Augustine, Fla. On the way, we stopped by Cumberland Island and Fernandina."
And although things are returning to normal, the Ballards plan to continue their family boating outings. Catie Ballard says there's another trip to St. Augustine planned for this summer, and they still love fishing and hanging out with friends and family.
The family highly recommends setting out to sea, so to speak.
"Boating has become one of our favorite things to do as a family," she said. "It's so peaceful out on the water, and there is always a fun adventure waiting."d.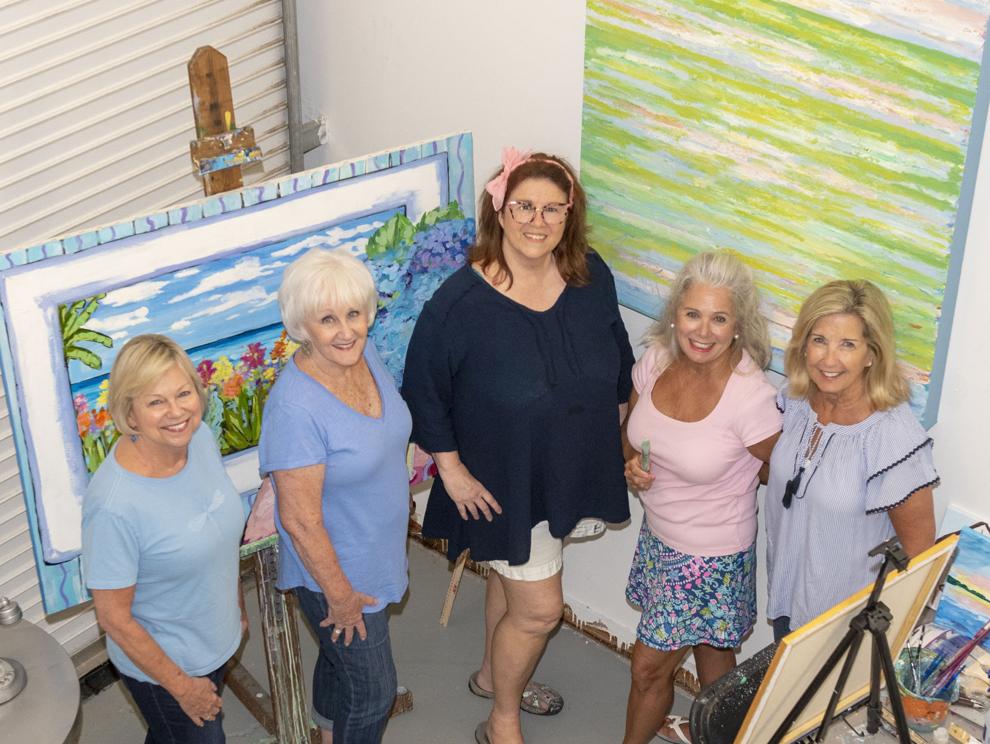 When the shutdown began, artist Cathie Parmelee had a thriving business in Get Your Muse On, but once the pandemic began, she closed that business, and she, along with a core group of painters, took it over.
Those women, in addition to Parmelee, are Janet Higginbotham, Anneliese Maddox, Sydonna Harden and Connie Williams, have painted side-by-side and socially-distanced the entire time. Four tables, six-feet apart, were set up for the twice-weekly sessions.
The group, she said, is what got her through.
"We all did everything we could to stay safe and paint together," Parmelee said of her group. "I wouldn't let anyone else in."
Parmelee is not a micro-manager art instructor. Her preference is to stand back and facilitate while a painter's style evolves.
"People's styles evolved more during the pandemic," she said. "Individual styles have really come out."
The time together was important for the women because it was their creative outlet and allowed them to remain connected.
"It was more meaningful, because of what we've all been through," Parmelee said. "It was everything."
Debbie Arnold and a group of her friends, including Kathy Hall, Andrea Woodoff, Stephanie Miller and Tracy King, began playing pickleball at the onset of the lockdown.
"I had taken a lesson, the group had taken a lesson, and we started playing regularly," Arnold said.
The game, which requires four players, combines elements of badminton, table tennis and tennis. It is not a difficult game to learn or play, said Arnold.
"The hardest thing is getting four women together to play," she said. Getting a court sometimes also poses a problem.
Once people understand the rules, it's easy to play, she said.
"It's the fastest growing sport," said Arnold. And, it's suitable for all ages – Arnold says she's played with opponents as young as her 12-year-old grandson up to women much older than she.
The benefits have been wonderful, she said. "We're a tribe of women with a common interest," Arnold said. "We've become really good friends with total strangers."